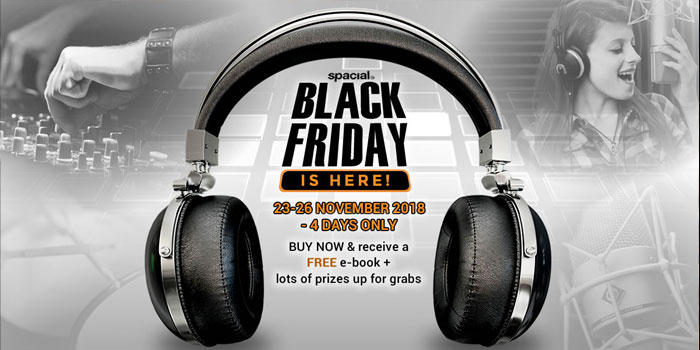 Spacial's Black Friday Guide
It's that time of year! The festive cheer is starting to take root, a new year is around the corner, and, more urgently, the excitement of Black Friday is fast approaching. We here at Spacial would like to share some helpful Black Friday shopping tips, as well as share a peek at our own massive software discounts. Keep reading to check out our guide to Black Friday!
Also, sign up for early access to our Black Friday Deals, and get a head start on your shopping spree…and that's not all!  Customers who make Black Friday Promo purchases are entered to win fantastic prizes, including iTunes gift cards, USBs, Spacial swag, complimentary training, and free SAM subscriptions.  
Shopping on Black Friday: How to Set Yourself up for Success
Make a list
An entire day of incredible bargains can be overwhelming, as it can be all too easy to get distracted by all of the great Black Friday deals. For this reason, we suggest making a list of what you're looking for before you start shopping. Draw up a game plan, know your goal, and have fun with the process!
Know your budget
With the amount of Black Friday bargains out there, your wallet can get a workout in a matter of minutes.  The temptation of an impulse buy can be a real doozy on your bank account, so it's important to work out a budget in advance. Identify your priority items, and maybe give yourself a bit of a buffer, for that special sale that is too good to pass up.  
Check retail websites every few days
Retailers undoubtedly cook up a variety of discounts and deals for Black Friday that they wait to unveil at just the right moment. In fact, they might want to build up to the suspense and release sale previews and early access opportunities in advance of the big day.  For this reason, it can be useful to keep an eye on the websites of your favorite stores to see what they have to offer.
Compare prices
Although we all have our favorite go-to retailers, it is important to keep in mind that Black Friday is a competitive space for retailers and that all are intent on offering consumers the best possible deal.  With this in mind, be sure to browse various deals from multiple outlets to ensure that you can make the most out of your Black Friday shopping experience.
Shop from the comfort of your couch, or brave the in-store frenzy?
While you make your lists and work on your budget, you also have to ask the question: online shopping or in-store dash? Both options have their pros and cons.  Sitting in your pajamas and securing your Black Friday bargains at the click of a button sounds like a pretty good option. It certainly beats shouldering through crowds of people and waiting in line for hours. On the flip side, retail sites often offer exclusive deals that may not be found in stores.  Additionally, with web traffic often doubling or tripling over the Black Friday period, poorly prepared sites may be down temporarily from the high traffic. E-commerce sites may also run out of their advertised deals before the day is over.
A combined approach is often a good idea, so you can enjoy the best of both worlds.  You can venture outside to secure in-store deals while looking up deals and doing online shopping from your smartphone. It's a great way to double up on your Black Friday haul by covering all of your bases.
The early bird catches the best bargain
Whether you decide to hit the streets or shop online, an early start could mean the difference between achieving your Black Friday goals and losing out on popular items because someone else got there first. So, set that alarm – in fact, set a few alarms.
Spacial's Black Friday Deals (The Real Deal!)
Spacial is joining in on the Black Friday fun with our own fantastic discounts and great giveaways! Whether you are a new or existing Spacial customer, we have you covered. If you have been using a cracked version that is bug-prone and not supported by Spacial, it's time to take advantage of our Black Friday deals and treat yourself to our premium, fully-licensed software at a massive discount.
We are giving up to 50% OFF SAM software (SAM Broadcaster Pro, SAM DJ, SAM Cast, SAM Studio & SAM Cast Studio) as well as SAM Broadcaster Cloud monthly packages, and up to 30% OFF SAM Cloud yearly packages.
…and that's not all. We are also giving 50% OFF of SAM Subscription Renewals (SAM Broadcaster Pro, SAM DJ & SAM Cast) to our existing customers. Keeping your SAM Software subscription up-to-date helps to ensure that you get the best that our products have to offer. Read more about the perks of keeping your SAM Software up-to-date. They are also loads of prizes up for grabs if you buy during the Black Friday promotion. Sign up for early access now!
New to Spacial? Here is our Product Guide
Join the online radio realm with one of Spacial's best-in-class software packages. Each new purchase of our SAM Broadcaster Pro, SAM DJ, and SAM Cast products include 12-months of product updates. Want to know more about our product capabilities?  Here is a quick run-down.
SAM Broadcaster Cloud
SAM Cloud is our always-on, cloud-based radio software that lets you run your station from anywhere with just a laptop and an internet connection. Some of SAM Cloud's exciting features include automation scheduling, multiple stations with multiple DJs, a shared music library, live streaming, and useful web widgets that you can integrate on your website or free player page.
SAM Broadcaster Pro
Our award-winning SAM Broadcaster Pro software package is a feature-rich broadcasting solution. Run a professional online radio station with a number of high-end capabilities, such as web integrations with a range of widgets, multiple format streaming, listener statistics, crossfade detection, gap killers, and volume normalization.
SAM DJ
Be the bumping DJ you have always dreamed of being with our SAM DJ software package. You are sure to bring the house down with SAM DJ's exciting features, such as a music library that can house and automatically categorize over 50,000 tracks, pre-recorded announcements, gap-killer to avoid dead-air, beat matching, and so much more!
SAM Cast
Our SAM Cast software package is your number one live streaming solution. SAM Cast has plenty of great features, like live streaming, the ability to stream in multiple formats, and listener statistics and reports.
Sign up for early access to our amazing Black Friday deals today and enter to win fantastic prizes in the process.
We wish you luck during the Black Friday craze! Happy shopping, and remember not to miss out on our fantastic Black Friday deals.