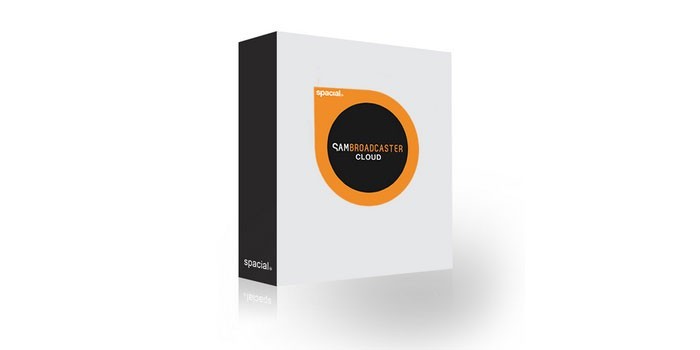 Live Streaming on SAM Cloud with SAM Broadcaster Live-DJ
SAM Broadcaster Cloud has a ton of features that users love – one being its live streaming capability. In addition to automation scheduling, live streaming is a great option to have for broadcasting to your listeners.  Without further ado, let's delve into the wonderful world of live streaming your cloud station with SAM Broadcaster Live-DJ.
The Perks of a Live Stream
Automating your content to stream when you are not manning your station is certainly useful, but broadcasting live also has its perks:
A live stream allows you to directly engage and further connect with your listeners. You can host live shows, conduct live interviews with guests, stream events in real-time, host live radio competitions, and more.

By presenting a live show, you can answer listener questions on air, take calls as they come in, and give your listeners a chance to do shout-outs and song dedications. This could potentially help your audience feel like they are a part of the show, and thereby foster a deeper appreciation for your station.
Live Streaming with SAM Broadcaster Cloud
SAM Broadcaster Live-DJ
SAM Broadcaster Live-DJ software is included with your SAM Broadcaster Cloud subscription. Live-DJ includes all of the great features that DJs have come to love, with the same, high-quality look of SAM Broadcaster Pro. SAM Broadcaster Live-DJ is automatically configured to your SAM Cloud account and station, enabling you to easily and efficiently broadcast live to your cloud station.
If you manage a station and would like to have additional DJs do live broadcasts on that station, you can assign Live Streaming Permission to the selected DJs. Your colleagues will then be provided with their own SAM Broadcaster Live-DJ licenses, which are available from within their SAM Cloud user Interface. Their licensed versions of Live-DJ can only be used to stream to stations under your (the station manager's) control.
Using Live-DJ to Broadcast Live
Log into SAM Cloud (https://samcloud.spacial.com) and select your station (if you have more than one). Once you are logged in, click on the 'Live Control' tab and click the "Download" link next to SAM Broadcaster Live-DJ.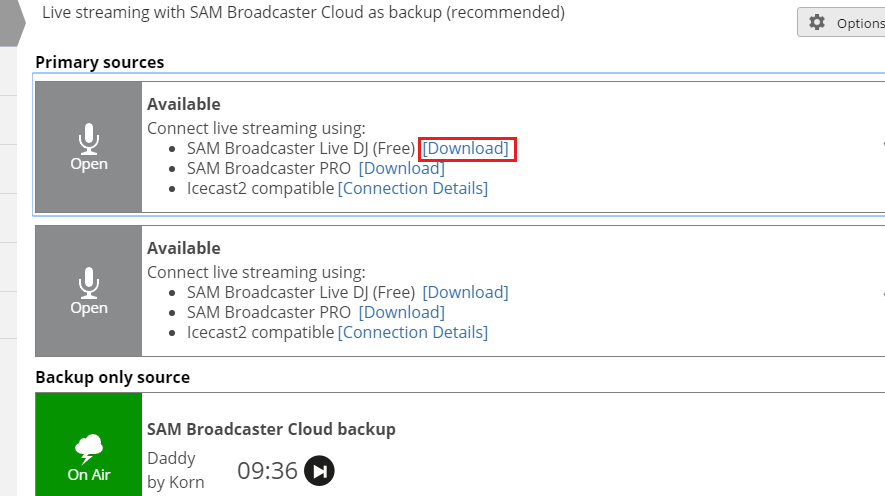 A product information window will appear; this will contain the product key you need to use to activate your software. You will also see a "Download SAM Broadcaster Live-DJ" button. Click on the button to start your download.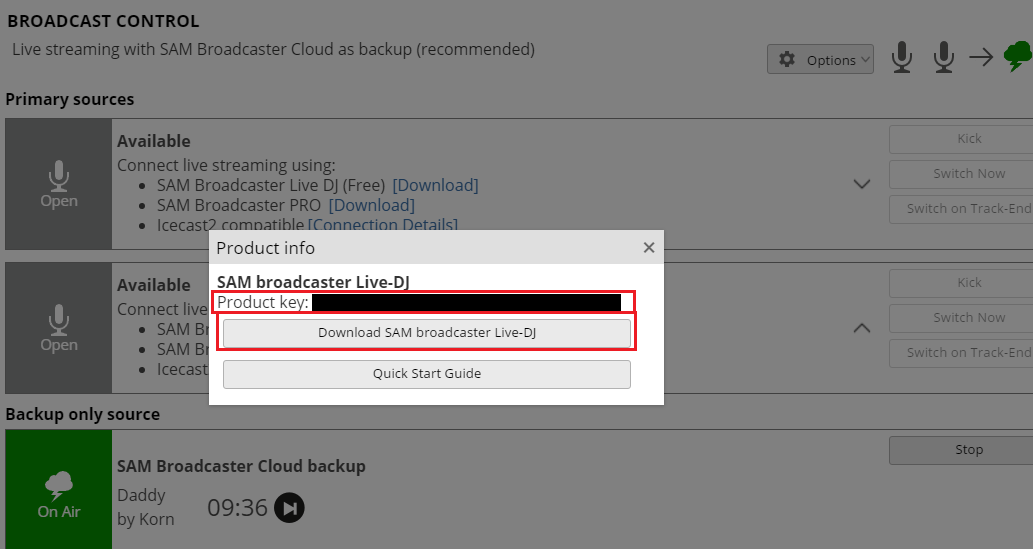 Once the download is complete, open the downloaded software to start the installation. Once the installation is complete, you can access the software from the start menu or by the new desktop icon.
When you open SAM Broadcaster Live-DJ, you will be prompted to sign in before you can use the software. Simply enter your SAM Broadcaster Cloud credentials to access your stations and Live-DJ software.
Select the "Keep me signed in" option if you would like to be automatically logged in next time. Click the "Sign In" button to continue.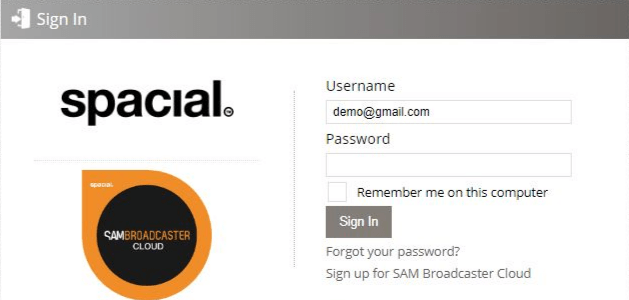 If you have access to only one station, you will be signed in immediately. If you have access to multiple stations, you will be prompted to select a station.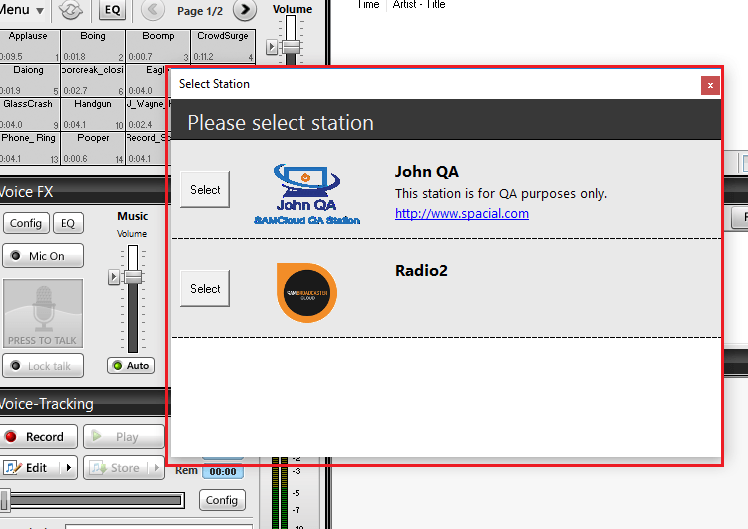 In this case, click on the "Select" button next to the station you want to sign into.

Once you are signed into your station, you can connect to your station from the Broadcast Control window. By default, this can be found on 'Desktop B'.
To start streaming to your SAM Broadcaster Cloud station, click the 'Connect' button in the Broadcast Control window shown below.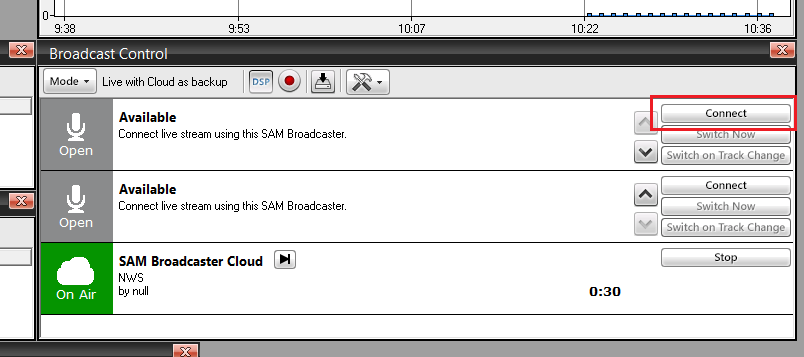 Once you are successfully connected and streaming live, your status will show as "on air" as shown below. If you do not get an 'on-air status' after following the instructions, read the information provided on the right side of the status and make corrections as instructed.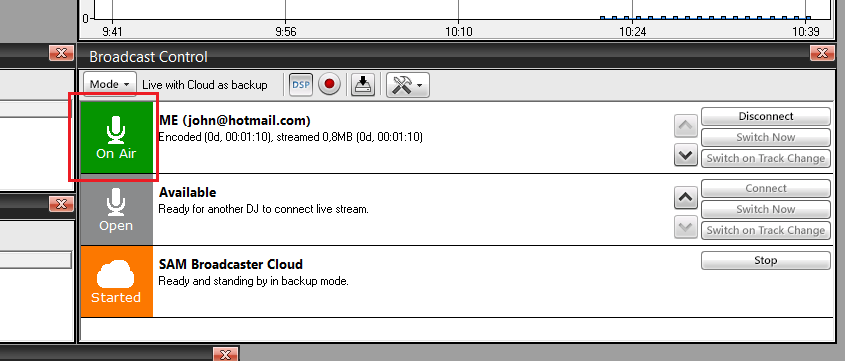 Voila! Your live stream should be up and running, folks!
If you would like more detailed information on how to use SAM Broadcaster Live-DJ to stream live to your SAM Cloud station, we have a more detailed PDF user guide available for download here.
Multiple DJs
SAM Broadcaster Cloud and Live-DJ allow for multiple DJs to log in and stream live. A DJ that signs in to broadcast would then simply connect to the next available slot in the Broadcast Control window, as shown below.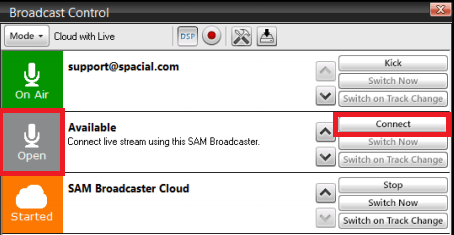 Live Stream Fallback
A live stream can fail for various reasons. Your internet connection could cut out, your equipment could malfunction, or a power outage could strike. We know that dead-air is certainly the last thing you want as a live broadcaster. Your listener numbers could drop dramatically, and you could lose precious broadcast time while you are trying to get everything back on track.
SAM Broadcaster Cloud has your back, and it won't leave you hanging. SAM Cloud provides an automatic fallback solution. So, if your live stream happens goes down for whatever reason, SAM Cloud will detect the issue and continue streaming your automated content. As a result of this useful fallback option, you can avoid the debacle that dead-air causes.
We hope that you enjoy your live broadcasts as much as your listeners. Remember, it is always a good idea to have a guide with some talking points before starting a live broadcast. If you are unsure of how to start working on a guide or script, check out our Top Tips on Writing an Online Radio Script. And if you haven't tried our best-in-class online radio automation software yet, why not take it for a spin? Whilst the live streaming feature is not usually available within the 7-day trial, we would be happy to let you try it out if you please. Simply contact our Sales team at sales@spacial.com to activate the live streaming feature within your free SAM Cloud trial version. So, what are you waiting for? Sign up for a free trial of our feature-rich SAM Broadcaster Cloud and hop on those airwaves today.