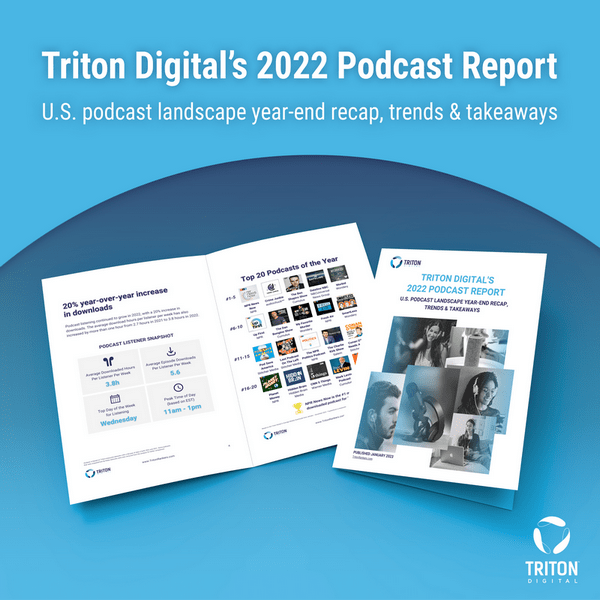 Triton Digital's 2022 Year-End Podcast Report – U.S. Podcast Trends & Takeaways  
Podcasting dominated the digital audio space in 2022 and continues to be an engaging and powerful medium for storytelling, conversations, and news and entertainment moving into 2023. The recently introduced Triton Digital Year-End Podcast Report, which accompanies the Triton monthly ranker reports provides insights into the evolving United States podcast landscape in 2022.
According to the report, podcast listenership continues to rise, as does the selection of content and the diverse ways we can listen to it. Podcast listening continued to grow, with a 20% year-over-year increase in downloads and the average download hours per listener per week increased by more than one hour, going from 2.7 hours in 2021 to 3.8 hours in 2022.
There has however been a decline in smart speaker usage, contributed by the fact that more people are returning to working on-site instead of working from home post Covid. On the other hand, mobile listenership continues to grow with 94% of people listening through mobile devices.

The big giants, Spotify and Apple continue to be the leading podcast consumption players in the United States at 38.4% and 11.5% listeners, respectively. The data also shows that monthly podcast listeners are younger than the general United States population with more males listening to podcasts as well as the more affluent, educated, and diverse category of listeners.
Top Indexing Audience Chart
So, what is the general population listening to? News, comedy, and crime are the top downloaded genres. Adults over 55 are the top listeners for news, females aged 25-34 years for true crime, 18-24 age group for comedy and 35-54 males for sport.
The top 5 sales networks for 2022 were Stitcher Media, Audacy Podcast Network, NPR, Wondery and Cumulus. Stitcher Media has been consistent on the number one spot every month with 56.8 million weekly downloads, with NPR battling for number 2 at 33 million weekly downloads and Audacy at 33.2 million. In terms of genres, Stitcher Media dominated in comedy, true crime and society and culture categories. NPR Podcast dominated in the news genre and Audacy in the sports genre.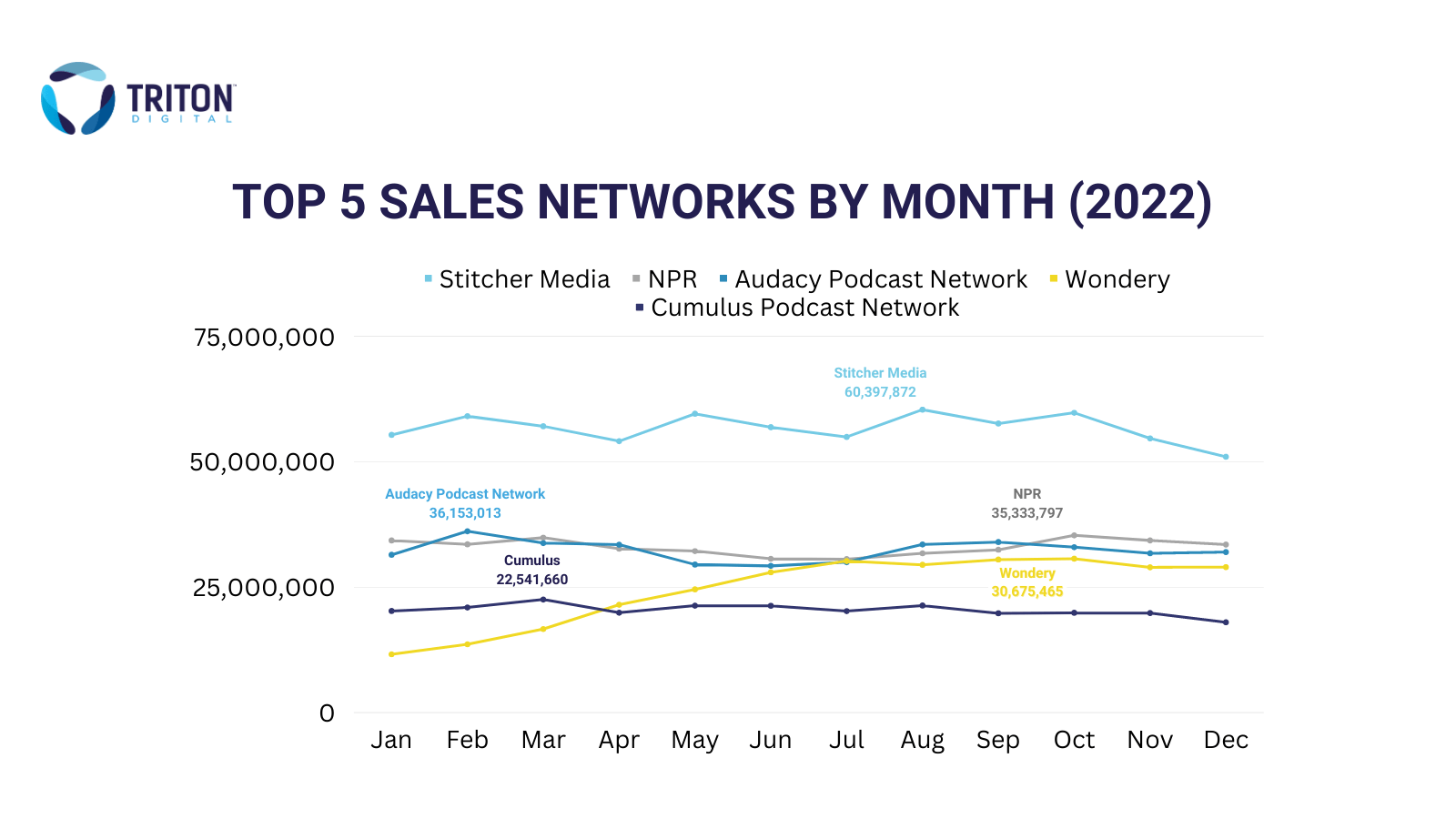 From Triton's sales network's 2022 data, the most downloaded podcast for the year was NPR News Now and the number one debut of the year was Rachel Maddow Presents: Ultra. The podcast space remains very competitive, with 2022 data showing that an average weekly download of 490K is needed to make the top 51 – 100 position of the ranker, with 8 episodes being the median number of new episodes per month released for a podcast. Significant consumption of back catalog episodes exists, although varying by genre, creating an opportunity for additional programmatic advertising monetization.
To learn more about U.S. podcast trends, download a copy of the complete report here.