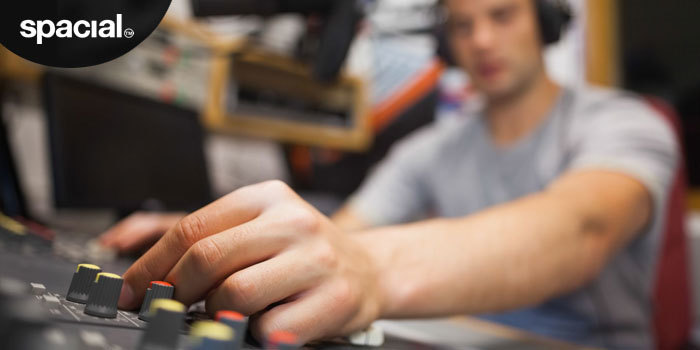 Our Ultimate Guide To Internet Radio Hosting
Internet radio hosting is just as important as the content you conjure; after all, if no-one can hear us, and follow the exploits of your programming, then the whole enterprise falls to pieces.
So, whether you like it or not, there'll have to be a plan in place for getting a broadcast 'out there' in the digital world. Luckily, Spacial is here to offer guidance for the uninitiated. If you've ever wondered about internet radio hosting, and what it entails, read on to grasp the basics before they elude you…
Building a website & finding a serving partner
It pays to invest in a dedicated website for your brand from the start. This will form the platform for your internet radio hosting, while ensuring that your station gains the professional status it deserves. You can go one of two ways to accomplish this:
Template web creation
Look into website providers such as Squarespace or WordPress. Many offer a domain name with a paid package; other platforms are available for a very low cost, extending from a basic free service. These tools can quickly design, colour and arrange a site you'll be proud of. At the bare minimum, form a 'Listen' page, an 'About' section, and links to your social channels.
Bespoke development
Of course, you may want to opt for a much more tailored approach i.e. hiring a developer to build it from scratch. It may be expensive, and requires a lot of oversight on your part, but the results can be irrepressibly unique. However, the cost might only be validated when your brand and your audience have grown – so don't jump the gun on this.
After deciding on a web hosting method, consider how you'll handle the traffic and streaming connections that go with it. A mass listenership will want a fast, fluid experience free of glitches or slowdown.
The site-creation solutions we've mentioned above – WordPress etc. – are handled from afar by the companies who manage them. Supposing you've gone down that route, it's easy to assume that they'll handle any pressure your site may receive.
But if you haven't, search for a remote server business (there are hundreds in the UK alone) that can scale with the demands of your audience. Remote servers will maintain the site from a distant location, using the latest hardware and IT expertise to ensure you don't suffer from downtime. Hopefully, they'll have a pay-as-you-go policy too, reducing or upping those requirements as they arise.
Add Widgets
The graphics may be swish, and the content of your pages could be top-notch, but there's no point in launching a radio site that doesn't have a listenable link to your station.
Our internet radio software, SAM Broadcaster Cloud offers complementary widgets – the buttons that start or stop the audio stream you're playing. The Pro version grants bespoke integration for other aspects of the site design. This can help you maximise the impact of your online presence.
Explore Internet Radio Hosting Platforms…
Now that you have a website under wraps, it's a wise idea to explore other ways that you can grow your reach beyond your friends, family and fans. Third party internet radio hosting platforms are a great way to do this. Many of these platforms work great alongside software such as SAM Broadcaster Cloud.
Shoutcast & Icecast
SHOUTcast v.1 & 2 and Icecast are two of the most prominent. If your station is compatible, it can be added to their real-time streaming library, and played from anywhere in the world. A Spacial software playlist, and live DJing that joins it, allows a seamless streaming process when you're ready for the green light.
However, SHOUT/Icecast are just the tip of what's to come. To build your digital audience, it's imperative to spread the station over as many internet radio hosting providers as you can find. Each of them has an identity to bear on the same goal i.e. streaming your programming to tens of thousands of people, who trust the web directory's accessible search filters.
We've made a list below of the top streaming platforms you might want to investigate:
Streema
This platform shows the amount of listens each station has garnered, as well as the star ratings it's been given, making for transparent quality levels. We've written a quick, instructive guide to setting up on a Streema service, which you can read here.
TuneIn
Online radio mingles with podcasts and audiobooks on TuneIn, so you may be able to capture users crossing from one sort of media to the next. Happily, it also has a listener base in the millions. If you haven't listed your station on Tune In, check out how to so do
AudioRealm
We recommend AudioRealm for many SAM Broadcaster streams, simply because the two have been built in a close, optimised partnership. It's sensitive to how SAM works best, and lets listeners log favourite stations as they go.
DeliCast
Arguably this has the simplest UI – a search bar and three filters (country, city, genre), with up to 20 stations displayed on a single page.
Internet Radio
You'll be added to a list of over 36,000 stations, making use of the forums discussing music, marketing and branding challenges between Internet Radio users. It's a place to learn and ask for positive criticism from your fellow broadcasters. Plus, you can pay-as-you-go, or sign up to a monthly plan for discounted bandwidth.
Gain momentum on social feeds
Engagement is hard to define beyond the quality of your show, and how willing you are to take listener feedback. But as a way to extend your audience, social media is both a symbol and a tool for exhibiting your brand's personality. It proves you're up for consistent, well-thought communication on what's being aired, as well as being the most accessible spot to grab people who aren't familiar with hosting sites.
Ever thought about adding a live web player to your Facebook page, for instance? SAM Broadcaster Cloud enables just that – watch our tutorial video if you're unsure of how to assimilate the player. With extended platforms like Facebook Live, you can broadcast to an entirely new internet radio audience. Get under their skin and bring more listeners under your brand banner!
An open Twitter feed is also beneficial for starting a conversation on your shows mid-broadcast. Stick to a few carefully selected hashtags, and promote the start times for this or that programme in advance, so people know when to tune in. Then, from a DJ hosting perspective, you can give shout-outs on-air and field any responses to the live audience.
Complement your Internet Radio Hosting…
By this point, everything should be up and running, at least in terms of making your digital presence felt.
Yet we'd like to suggest a full, considerate re-think of whatever else tags along with your internet radio ambitions. For a few prompts, we've compiled a list here:
We daresay we've been brilliant hosts in this radio strategy… It's your turn, now, to use Spacial's advice for internet radio hosting. As ever, you can contact our support team regarding SAM Broadcaster or anything we've discussed.