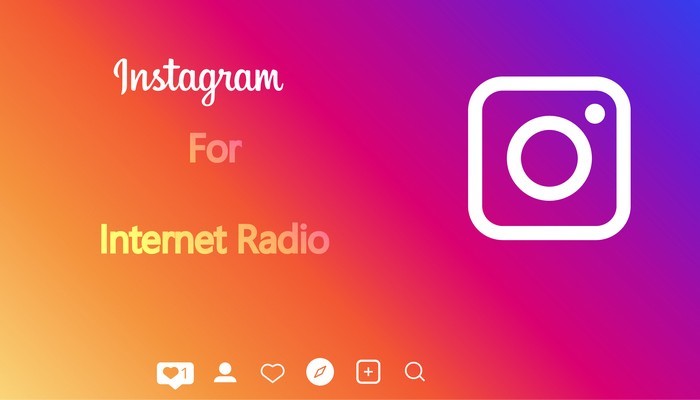 Promoting Your Internet Radio Station On Instagram
Last year, Instagram, a photo and video-sharing social networking service owned by Facebook, announced that it had reached the 1 billion user mark across the globe. So when we talk about promoting your online radio stream, Instagram should absolutely be a part of the conversation as a way to reach fans, sponsors and influencers. So how good is Instagram for radio stations?
You might think that, because it favors the power of images over sound, this social media channel isn't the best. However, plenty of radio personalities have an Instagram account. They use imagery to bring listeners into the action or behind the scenes. Promoting a radio station on Instagram is especially effective if you're appealing to a demographic under 35 years of age.
Need some pointers on how to get going? Read on to learn helpful ways for how you can leverage the platform so that more people can both find and engage with your internet radio station.
Define and Time the Content
Deciding what you are going to post is the first and most important question you need to ask yourself. You'll want to ensure that the image you choose is both relevant to your brand and high quality. Many thought pieces have described the growing need for authenticity on Instagram, so it's important to show your followers engaging content, such as how your station is crafted, maintained, and managed.
You could also share images of DJs at work, live events, or even guests on your internet radio station. The ability to put a face to a voice can help your listeners recall your station and talent easily. Elsewhere, it's good to feature marketing artwork, show posters, or original designs by those that will appear on your show to boost interest and excitement in advance of your upcoming programming. Remember that short audio clips and videos can also be uploaded to Instagram.
Whatever you choose, keep it consistent. To maintain follower engagement, you should post to Instagram once a day, or at least several times a week. Sprout Social suggests peak hours for post engagement to be between 11 am and 3 pm, with an optional slot for early mornings.
Use Hashtags – Carefully!
Hashtags remain a useful accompaniment to posts for increasing engagement, but you want to make sure that you find a balance and avoid using too many.
We recommend that you choose 3 to 4 hashtags for any given post. Keep the majority of them generic, such as #internetradio and #instamusic. Then have a particular tag that's relevant to the show, guest or genre you're promoting. As time goes by, you'll lean on hashtags less and less as your follower engagement becomes organic.
Trending seasonal or news-related hashtags – whichever is more relevant to your content – can also help to boost engagement. There are a number of free tools online that can help you identify trending hashtags, including Trendsmap, which shows the most popular phrases in your area.
Leverage Instagram Stories
400 million people use Instagram stories. Like Snapchat, Instagram stories enable you to show behind-the-scenes highlights, such as the program production throughout the day and the different roles played by the production team. However, we'd go further and recommend that you feature other Instagram users on your story now and then too such as listeners who are influencers in their communities. Your listeners, in turn, can also promote your station on their own Instagram pages, which in turn helps grow your audience.
Instagram stories are another form of authentic engagement. Leveraging Instagram to promote your online radio station can also support your other audio programs such as your station talk shows, and the people who contribute to yours. Users can scroll through your feed not only to discover what you are doing and what they can look forward to but also information surrounding the content you make. This way, you get to grow a peer-to-peer network, and maybe you will get featured on other people's stories in return.
Host Competitions and Polls
Instagram stories can also be used for polls, which can encourage discussions among your followers.
Are you trying to settle which band is better? Asking for opinions on current affairs? How about the ultimate question for an upcoming interview? Poll your audience for their opinions and/or to understand what they'd enjoy most. You can then leverage that feedback to improve your content, and/or announce the results of on-air, creating a more engaging experience overall.
In addition, Instagram can be an effective tool in promoting prizes on social media, as this is where most people will find competitions to enter. Your station's Instagram page should give something away that's relevant to your audience (like branded merchandise or a product from an advertiser or guest) in exchange for a like, share, or tag.
Promote Competitions elsewhere online, but be sure to include the link in your station's Instagram profile and/or description, as users can't click straight through to a URL if it's featured in a caption. And, as ever, build up to the announcement on your show. You want more live listeners, and this is a huge incentive for people to tune in. See our top tips for running a radio competition for more inspiration and ideas.
Go Live On Occasion
A couple of times per week, and especially on weekends when live events and interviews are likely to take place, consider using Instagram Live to further engage your loyal fans. Instagram Live is great for music performances, live interviews, and host monologues. As you get more experienced, Instagram live broadcasts can become a natural extension of what you do. Your followers will tune in more frequently, and you can even use it to accompany your other streams on a web platform. In addition, Instagram live enables you to respond to real-time comments on your stream, furthering the interaction between you and your followers.
These are the basic elements of how Instagram can be a valuable asset in promoting your internet radio station and engaging your followers, with plenty of features to explore. Get started with Instagram today, to create a footprint for your brand on this platform.