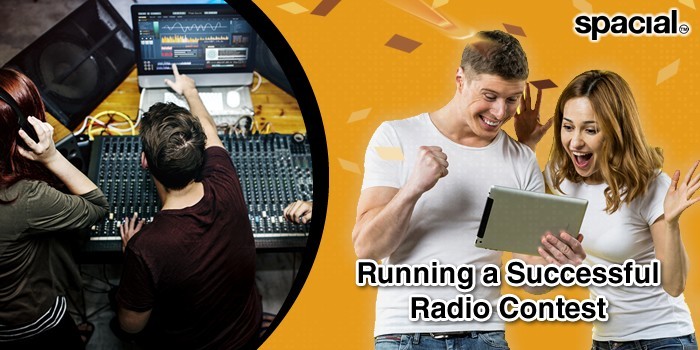 Benefits and Best Practices for Radio Contests
Also Read: 

Radio Contest Ideas

 & 

Radio Contest Prize Ideas
Radio contests have the ability to add both engagement and excitement to your live broadcasts. If you are looking for ways to grow your following and solidify your brand as a radio station, radio contests are a great place to start. Besides, who doesn't love the chance to win free stuff? The anticipation of winning keeps listeners engaged and tuned-in. On-air radio contests can also be used as a tactic to promote certain segments of your programming or any third-party content on your station. If you are trying to come up with new ways to engage your audience and reward them for listening, why not try radio contests? Continue reading below for some fun and interesting ideas!
How To Run Successful Radio Contests
Relevance – Keep in mind that your contest should be relevant to your target audience. Sounds too obvious right? Well, the success of your contest is entirely dependant on whether it garners enough interest from your listeners to entice them to participate.
Timing Is Everything – If you want your on-air radio contests to be successful, it's best to keep timing in mind. The best time to run a contest is typically when your listener traffic is at its peak – during the most popular show or when a popular host is online. Unlike AM/FM radio stations where traffic tends to peak during periods such as drive time, peaks for online radio traffic tend to differ. Make sure to analyze your listener reports to see where your traffic peaks in order to maximize engagement.
Pair Your Content With Contests – Radio station content can vary between music segments, talk shows, news, weather, sports, advertisements, and more. For your contest to be effective and engaging for the right audience, you should conduct radio contests with relevant radio content. For example, conducting a sports quiz during a sports segment should increase listener engagement due to the relevancy of the audience. Third-party contests should be conducted along with that particular third-party's ad to bring more awareness of the product advertisement. Engagement activities such as birthday shoutouts can be conducted within any segment to drive listener engagement.
Successful Giveaways – Listeners love free stuff, but you don't have to break the bank to run giveaways. When running an on-air giveaway, you should make sure that the prize is relevant to your audience and your station, such as branded merchandise. Remember it's meant to be fun, so make the call to action easy to understand and easy for listeners to enter and win. Please note that sweepstakes are regulated in some countries, so if you plan to run one, be sure to familiarize yourself with the rules within your jurisdiction.
Fun, Fun, Fun – Radio contests are supposed to be fun, even if, in some instances, there is an underlying business gain for the radio station or the advertiser. The tone in which the DJ presents the contest plays a huge role in how the contest is perceived by the listeners. In cases of playoffs between listeners, the DJ should act as a fair judge and moderator to keep the fun going.
If you have an established online radio station and are interested in learning more about Triton Digital's Audience Management Platform (AMP) – the radio industry's most powerful suite of audience engagement tools including Radio Contesting and prize fulfillment – click here (Please note, AMP is available in select countries. Please inquire for more information).  If you have not yet begun your own online radio station, now is the time! Sign up for a free trial of SAM Cloud today and try our best-in-class radio automation software.
Looking for radio contest ideas, click here for part two which covers popular contest ideas for radio.
---
READ MORE
PART 2: Radio Contest Ideas
PART 3: Radio Contest Prize Ideas