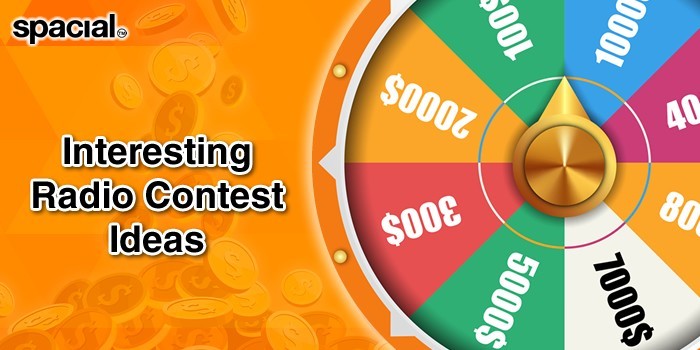 Radio Contest Ideas
Also Read: Radio Contest Prizes & 

How to Run Successful Radio Contests
Now that we know how to run successful contests, let's dig into popular contest ideas for radio. Cleverly crafted contests can help raise the popularity of your station and awareness around your brand.
Minute Of Fame
With this contest type, listeners are encouraged to compete with an activity, i.e sing, imitate a song, recite a poem, say a joke, play an instrument, etc. This particular radio contest can be timed to ensure that your programming schedule is not affected, for example, 1 Minute of Fame.
Playoffs
Playoffs come in different formats. Listeners can call in and compete against one another, or listeners can compete with the DJ, in the form of 'Who's Smarter Than a DJ' type of contest. Other examples of this contest include 'Battle of the Exes', which is a battle between men and women. Competitions range from answering a set of questions, singing competitions, making predictions, and more. When you conduct play-offs, ensure that fair rules and conditions of winning are in place.
Question / Quiz Contest
This contest type involves asking questions to test knowledge about a specific subject or topic. Some radio stations ask questions on current affairs that they would have presented on that particular day. Another take is to have a timed quiz, where the listener has to answer a certain number of questions correctly within a specific time frame.

Guessing Contest
Create a guessing game where listeners must guess correctly to win. Guessing contests range from listening to audio and identifying a sound, echo, voice or guessing a winning number or box. Examples of guessing contests include stations asking listeners to guess the number of items which have been dropped in a jug by listening to the audio, or identifying the voices of popular artists or figures. In other instances, the station gives different box options to the participating listener and the participant has to guess the winning box to win. There are many guessing games you can come up with – just be sure to tailor the contest to match your audience's interests.
Prediction Contest
Prediction contests are a popular. These contests are conducted as a lottery where listeners either guess a set of numbers or winning teams. Prediction contests are typically used for sporting competitions, however, since predictions can sometimes be considered as gambling, depending with how the contest is structured, it's important to both understand and ensure that you are operating within the competition laws of your country or jurisdiction.
Cash Countdown Contest
If you have extra cash to spare, there are different cash contests which you can craft to your advantage. One popular contest is having a money counting machine and the participant has to stop the money machine before time runs out. If the participant stops the counting machine before time runs out, they win the total amount accrued, but if time runs out before they stop the machine, then they do not win the money. This type of contest can be sponsored by advertisers on your station to further solidify their brands.
Birthday Shoutouts
This tactic can be used as an opportunity for listeners who are celebrating their birthday to have their playlists played or to give other listeners an opportunity to do shoutouts to special people in their lives that are celebrating their birthday. Another interesting angle is to qualify contestants for a chance to win if they were born on a preselected lucky day.
Off-Air Contests
On-air contests can be integrated with off-air contests. Common off-air contests include asking listeners to share creatives such as pictures, stories, poetry, and more on the station's social media page.
Themed Contests
Contest ideas can be tailored with different themes such as holiday celebrations or events, for example, on Valentine's' Day a radio station could run a match-making contest. Visit Triton Digital's Audience Management Platform (AMP) blog for regular updates on interesting contest themes. 
If you have an established online radio station and are interested in learning more about Triton Digital's Audience Management Platform (AMP) – the radio industry's most powerful suite of audience engagement tools including Radio Contesting – click here (Please note, AMP is available in select countries. Please inquire for more information). If you have not yet begun your own online radio station, now is the time! Sign up for a free trial of SAM Cloud today and try our best-in-class radio automation software.
Moving right along, our Part 3 will give you a rundown of radio contest prize ideas that you can give away to your radio contest participants. Don't miss out on this exciting feature.
---
READ MORE
PART 3 : Radio Contest Prize Ideas
PART 1: How to Run Succesful Radio Contests