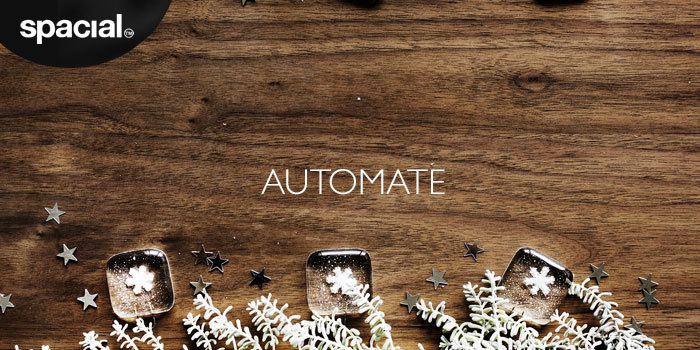 Ways To Automate Your Internet Radio Station This Christmas
At Spacial, we love to wax lyrical about the strengths of being an internet radio DJ, and how you can grow your following through features that make broadcasting simple. Yet you may be fairly new to our radio automation software, and still to discover the ways in which you can streamline your programming.
None of this is overly complicated, but it takes a few insider tips to get to grips with our features.Just in time for the Christmas break, here are 3 ways to automate your internet radio station:
Setting up your internet radio schedule
To automate your playlist rotation and create a lineup your listeners will keep coming back to, create a schedule that showcases your daily playlists.Simply set the weekly definition of your schedule (Monday through to Thursday, Tuesday to Friday etc.). Then left click on the day your radio 'event' will fall on, give it a name, and select the hour you'd like it to begin and end.
Clear the queue status on the right-hand toolbar; this is paramount, as you want to organise various same-day playlists based on when they should start, not the last one you uploaded. Further options will be presented, such as repeated cycles on the same day next week and a colour code to differentiate each event.
2. Clockwheel rotation
But how do you prevent the same songs and artists from repeating themselves within your playlists? It's easy, actually: just click the 'config' button on SAM Broadcaster's control panel. There, you'll be taken to the rules of playlist rotation, where you can choose which albums, titles and musicians shouldn't be aired again in a set time frame.
These can be combined – so, for example, you could choose that two Madonna tracks are verified to play within 100 minutes of each other, but that a pair of songs from the Ray Of Light album should have at least a 620 minute gap between them.
Queues can also be made, enabling listeners to request their own song without knocking your playlists from their automation cycle. Afterwards, click 'config' again and determine which playlists – if you want to mix them up – can air a track one at a time, using the 'select category' button.
3. Failover logic
Finally, just in case you're concerned about having empty spaces in your radio automation software schedule (say, for instance, if SAM Broadcaster can't locate a file), failover logic can be implemented.
Tick it on the 'active playblock' tab on the top left of your screen. It tells SAM to fill dead air with a randomly selected song from the same playlist. So you can enjoy the dizzying range of Spacial's features, without worrying about hiccups in your broadcasting schedule.
Hopefully, this has cleared a few things up for you. Radio DJ software is coming on leaps and bounds with every passing month, and we're glad to show anyone the ropes. Got a question about your software? Visit our help centre for further guidance.