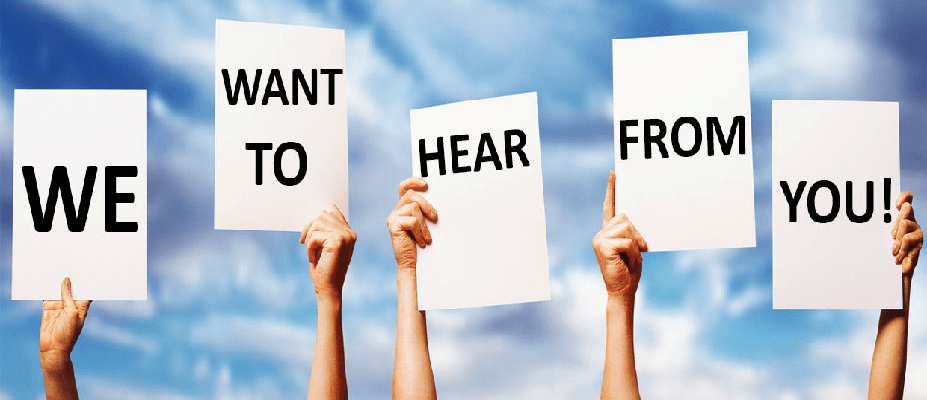 The Opinions of your Listeners Matters
Gathering feedback from your audience is an often overlooked but important aspect of your radio station. The process helps you understand if you are achieving your purpose, while helping you make improvements and gauge if the station has a loyal customer base.
Before you begin collecting feedback from your listeners, you first need to identify what exactly you are looking to get feedback on. Identifying your desired outcomes helps you to ensure that you structure your questions appropriately and collect meaningful data.
We have gathered a few ways that you can get feedback from your listeners:

How to Get Feedback
They are a number of vehicles that you can use to solicit feedback from your listeners, including:
Email

Email is one of the more popular ways of getting feedback. Every radio station should have a designated email address where listeners can easily send feedback or complaints. It is important to ensure that this email inbox is monitored, and that inquiries are responded to where relevant.

Voting/ Polls
If you are interested in getting your audience's opinions on a specific topic or to understand their favorites (i.e.program, DJ, content, etc.), then voting or polls are a clever way of going about it. The best part? They can be simple. Even emojis can be used – be it a happy face, sad face, thumbs up, thumbs down, etc. .

Surveys
Surveys are also an effective way of getting feedback from listeners. Survey Monkey or Google Forms are examples of survey tools that many use. These can be embedded onto your station website, or, linked to in your station communications or newsletters.
Website Form
Having a feedback form on your website is another popular vehicle for getting feedback. Be sure to personalize your website form to include any details you would want your customers to include in their feedback.
Social Media
On social media, users are typically authentic, and genuinely express themselves through comments, mentions, and hashtags which makes this a great medium to solicit feedback at scale, depending on how big your social following is (47% of customers with a product or service complaint will voice it on social media!).

Additionally, monitoring mentions of your brand across social media platforms is a great way to gain valuable feedback. Are people discussing your station and its content in a positive light? Telling you more of what they want to hear? This kind of real-time feedback is invaluable when it comes to tailoring your station and programming to the likes of your listening audience.
Welcoming Feedback
So, you know that you want to solicit feedback from your listening audience – now how do you let them know? For one, DJs should at the end of each program or in between their segments on how to contact and provide feedback to the station. Additionally, your radio station's marketing collateral should also clearly highlight the different methods of contacting the station. This includes your station website, social media pages, emails, and newsletters, print material and more.
Recording the Feedback
Once you begin collecting this feedback, you need to ensure that it is stored in a safe, convenient place where you can access it and add to it. A shared spreadsheet, for example, is an easy place to store this information and share with other stakeholders of your station. Data that you should consider storing here include:
Who provided the feedback? You can also include the sex and age.
The date when the feedback was received.
Feedback category (complaint, compliment, which program or segment etc.)
The feedback itself
A notes/follow- up section to indicate if any follow up attempts were made by the listener.
Now that you have collected valuable feedback from your listeners, the next step is to analyze the data. Graphs and tables are a great way of presenting the feedback in a way that will allow you to see trends, patterns and other valuable insights that can then be used to make informed decisions as to your programming, talent, and more.
If you have an existing radio station, we highly encourage the regular collection of feedback to continuously optimize your audience's listening experience. If you are new to the world of radio, why not try out our 7-day SAM Broadcaster Cloud free trial today.