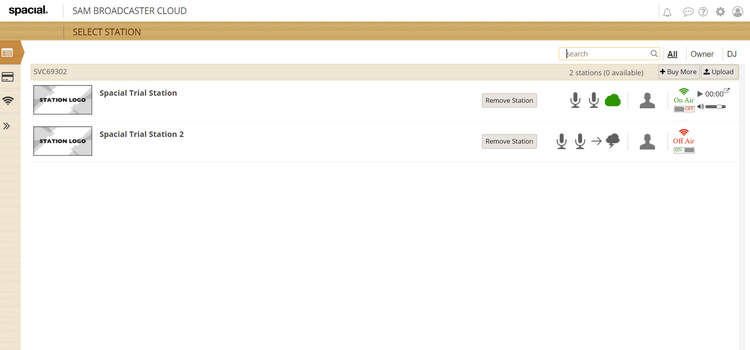 Running Multiple Radio Stations
Publishing a wide array of content to provide an engaging listening experience remains one of the top strategies for successful radio stations in 2021. One example of this is running multiple radio stations, each targeting a different demographic such as age, sex, interest, language and more to ensure that the content delivered is relevant to the intended audience.
Benefits Of Running Multiple Radio Stations
Having multiple radio stations will give you more opportunities to pull in more listeners for the specific demographics you are targeting.
Multiple stations enable you to deliver more targeted and relevant content.
When operating in multi-cultural environments and/or targeting different locations, you can deliver the same content in different languages for better engagement.
You can run multiple stations under one account at a lower cost with SAM Broadcaster Cloud. The Gold package costs $75 and comes with three radio stations.
Existing SAM Cloud customers can easily add another station to an existing service for only $15 and this will share your existing Cloud music library.
Running Multiple Stations with SAM Broadcaster Cloud
Running multiple radio stations sounds like a lot of work. However, Spacial's solution through our SAM Broadcaster Cloud is designed to simplify this for you – one account, one library, multiple stations, and no headaches!
For starters, the SAM Broadcaster Gold Cloud package allows you to run three stations under one account. Creating an additional station is simple. If your subscription is on the Gold package, simply login to your account, and click on "Add station" as seen below:


If you are on Bronze or Silver, you can also add a station as a custom package at an extra cost. To add a new station, simply do the following:
Login to your account and click on "Buy More"
You will be redirected to the billing section where you will be able to increase the number of radio stations.
Click on calculate to update your shopping cart and click on next to confirm and finalize payment.

Share Your Music Library in SAM Broadcaster Cloud
Once you have created your additional radio station(s), SAM Broadcaster Cloud allows you to share your music library across your radio stations. Instead of managing multiple libraries, SAM Cloud library makes it easy to organise your songs, commercials, and sweepers in one place.
On the Playlist tab of your Library, you can create shared playlists for genres, decades, artists, commercials and more that are suitable for every station. For station specific content, log in to the relevant station and create dedicated Station Playlists – ideal for sweepers, ID's, and genres that might only appeal to one listener group.
To ensure that your listeners are getting the same high-quality broadcasting, keep an eye on your 'Health tab.' This shows any rotation warnings and errors – so if your playlists are not performing as instructed, you can amend the play block or separation rules.
Click here to learn more about using the shared music library.
Geo Blocking Capability
When running multiple stations for different locations, you might want to ensure that there is no overlap of your stations serving the same audience. Geo blocking can allow you to limit the listening audience for your radio station(s) by their location, enabling you to deliver more relevant and engaging content to a specific audience.

Click here to learn more about our Geo Blocking functionality.
Multiple DJ Management
Having multiple stations might mean bringing new DJs to the mix to help add versatility and widen your different stations appeal. SAM Broadcaster Cloud allows you to assign DJs to your multiple stations from a single location. As the station owner, you will have exclusive rights to create and manage DJ accounts. The DJ management function allows the station manager to provide other DJs access to specific or multiple stations and assign specific permissions such as restrict access to a single station, hosting a live show, upload content, move content to different playlists, add content to the queue, protect music library from being deleted and many more. SAM Bronze and Silver both come with 5 additional DJs and SAM Gold comes with 15 extra DJS. Additional DJs can be added at an extra bundled cost of $5 for 5 DJs.
To create a new DJ login, the station owner must do the following:
Log in to the station you want to add a new DJ login.
Go to Settings, then DJ Management..
Click on Add DJ, add the user's details, then press ok.
Once added, the station owner can assign permissions to a DJ. Service level permissions apply across the stations and station level permissions apply to the specific station.
The added user will receive a notification and will have the ability to log in to SAM Cloud and view the permissions assigned to them.

If you are considering multiple stations but for completely different genres or regions, you could consider taking multiple SAM Cloud services with either a single station or multiple, complementary stations and still manage all of these from the same interface with each service having its own Cloud library.
Automated Scheduling
In the event that you are running all stations on your own, our automated scheduling functionality may come in handy for you. SAM Broadcaster Cloud allows you to upload your content, set rotation rules, tasks, and play blocks and the station can run 24/7 by itself. When you are broadcasting live on one station you can automate your other station and relax knowing that your station is up and running.
If you have been contemplating on growing your audience or reaching other demographics, why not consider having multiple stations for specific targeting. If you are new to radio, try out our SAM Broadcaster Cloud 7-day free trial today!