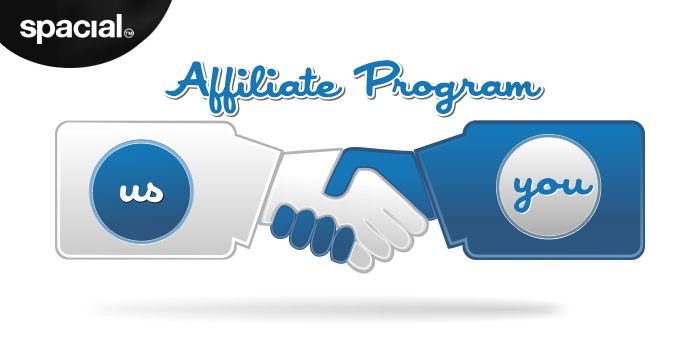 The Benefits Of Being A Spacial Affiliate
Music is all about sharing, and here at Spacial we like to share the love with our customers. As a leading provider of radio automation software, spreading the idea of unity is what we do, putting thousands of potential listeners in your lap with our easy-to-master broadcasting solutions.
There is a status reserved for those who help us in our goal to reach as many people as possible. By becoming a Spacial Affiliate, you have the chance to gain from our prosperity. Here's how you do it…
Promoting the best there is
Think of the Affiliate role as a fan club of sorts. If your radio station has its own website – potentially one with a skew towards creative minds, entrepreneurship, or digitally savvy consumers – we'd like to be a part of it.
In a nutshell, Affiliates promote the Spacial brand as a banner advertisement or link on their website. Every time someone clicks on the ad, makes their way to us and ends up buying a Spacial package, you'll get a portion of the final payment. This ranges between 15-20% of the RRP for our SAM Cast, DJ or Broadcaster bundles.
Since your success influences ours, we can advise you on the best mediums of promotion, getting your conversion rates off to a flying start. You'll be associated with a global brand that prides itself on cutting-edge radio programming; such a partnership can only boost your digital pedigree, showing prospects how to get their ideas heard on any subject they treasure.
Simple, smooth and informative
Earning commission with Spacial is simple. We hand security duties over to Cleverbridge, our internet payment provider, who will handle your information with utmost care. After signing up for your acount through https://spacial.com/affiliate/, a registration acceptance email with your username and instructions on how to get started will be sent to you and you'll be all set to go.
Cleverbridge is able to track visitors and sales via your ads through cookies, the digital thumbprints of websites the world over, and you'll receive an email the instant a sale's confirmed. As soon as your commission exceeds $50, you'll be able to cash out on your earnings.
Let us pay your way!
Now, think for a moment – if you're a happy Spacial user, all too willing to share your love for internet radio software, an Affiliate membership makes perfect sense.
You're already making the most of one or several DJ channels, getting amazing content to a good wedge of listeners. They may therefore be inspired by your work, eager to try online radio streaming for themselves. As this interest leads them to us, you'll essentially be able to fund your station from your loyalty. It's a profitable cycle: be proud about your capabilities, encourage others to do the same, and watch your budget rise to new limits.
A sound decision, perhaps? Radio DJ software is something we're incredibly passionate about, and we suspect that you feel the same way. Let's push it forward together – have a glance at our Affiliate details for more information about commission and signing up.