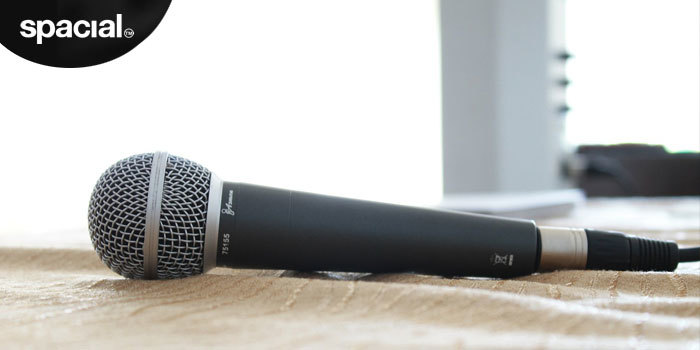 Best Microphones for Podcasting: What Podcast Stars Use
Garbage in, garbage out.
Ever heard of that?
Picking the right microphone for your podcast is a very important decision. Your microphone is the first component in the chain of processes required to produce and publish a podcast. If you start with bad quality on the recording there is no way you will end up with a professional sounding podcast at the end of the chain.
The better quality the input, the less time you will spend in audio editing software trying to remove background noise, pops and blips. In fact, with a good podcast recorder setup you can probably avoid audio cleanup work completely.
Luckily sounding great is less expensive than you might think. Today there is a wide selection of good microphones for podcasting at very reasonable prices.
We rounded up the best microphones for podcasting in 2016. We will even show you which high profile podcasting celebrities also use the same microphone.
So continue reading to find the best podcast microphone for your show.
1. Audio-Technica ATR2100-USB Cardioid Dynamic USB/XLR Microphone

Tim Ferris of the 4-hour-workweek fame currently has the #1 business podcast on the iTunes directory and won the best overall podcast award for 2014 and 2015.
Why am I telling you this? He also happens to highly recommend the Audio-Technica ATR2100-USB as best microphone for a podcast.
This versatile microphone easily connects to your computer via USB but has the option to also connect to any standard sound system.
The built-in headphone jack allows you to immediately monitor the sound directly from your microphone.
Special cardioid pattern improves isolation of desired sound source by reducing pickup of unwanted sounds from sides and rear, ensuring your voice is always crystal clear.
Works perfectly fine for both Windows and Mac.
We believe this is the best podcast microphone under $100 you will find anywhere.
2. Rode NT-USB USB Condenser Microphone

Tall & funny man Adam Carolla also now hosts a very popular podcast.
He actually uses a lot of podcast gear for his show, but the best USB microphone for podcasting that he recommends is the Rode NT-USB Condenser Microphone.
This is a studio quality microphone with USB interface so it can easily connect to your computer. Even boasts official Apple iPad compatibility.
Ultra-low noise will make sure your voice stays front and center.
Comes with 2-year warranty for your own full peace of mind.
If you order this version you also get a tripod stand, pop shield and ring mount included – which makes this an excellent buy.
Overall this bundle is our best podcast microphone under $200.
3. Audio-Technica AT897 Line + Gradient Compact Shotgun Condenser Microphone

This is admittedly a bit of a weird choice to include in the list. However, it comes highly recommended by Ira Glass of the super popular "This American Life" show.
The long shape of this microphone makes it the best mic for podcast recording in the field where you can just point the microphone in the direction of wherever the sound is coming from.
Whether you are trying to capture an interview on a busy street or need to record a cow mooing in the field. Just point this mic in that direction and record!
Not a bad choice if you are also moving into video production as this microphone allows you to record audio at long distance without it being "in the shot".
So if being out-and-about is a key component of your podcast show then this might be a good choice for you.
4. Heil PR-40 Dynamic Studio Recording Microphone

Pat Flynn does something unique. He publishes his monthly online income publicly on his blog. Last month it was almost $150,000!
He also produces a very popular podcast show. After trial and error, he finally found a microphone he absolutely loves – the Heil PR-40.
He obviously has a "flexible" budget to spend on shiny new gear so this Heil PR-40 is indeed one of the more expensive mics in our podcast microphone reviews so far, but it is certainly an excellent choice for the serious podcaster which simply do not want to compromise on audio quality.
Features internal breath blast filter on the diaphragm element which results in the best human voice recording possible.
This microphone received many rave reviews from audio professionals.
3-year warranty provided.
5. Logitech ClearChat Comfort USB Headset H390

The owners of Games Tavern Podcast Network advocate a more budget conscience approach.
They recommend you go with a good noise cancelling microphone and headset – like the Logitech ClearChat headset.
If you are just starting out as a podcaster this might not be a bad choice. Audio quality will never be studio grade, but it will be good enough to record your first shows.
If your podcast show happens to fizzle out, then at least you have a great headset for Skype calls and voice chat. Alternatively, if you learn that you have a bright podcasting career ahead of you, you can invest in more expensive equipment and "up your game".
Connects to your PC or Mac via USB port.
The Logitech ClearChat is our choice for best podcast microphone under $30. It also happens to be the best-selling headset on Amazon.
Watch microphone review
Conclusion
No doubt that picking the best microphone for podcasting is crucial to get a professional sounding podcast. We trust that these podcast microphone recommendations will give you all the knowledge you need to make an informed decision.
We did the hard research work for you so you can get to what you do best – creating interesting content for your audience. Now get cracking and pick a good microphone from the list above that works within your budget and start recording your podcast.
If big names like Tim Ferris, Adam Carolla, Pat Flynn, Ira Glass and other #1 rated podcast celebrities trust their popular podcast shows to these microphones – you really can't go wrong by doing the same!
I hope we have helped you on the path to experience…
Awesome in. Awesome out.
 Product images sourced from Amazon.com