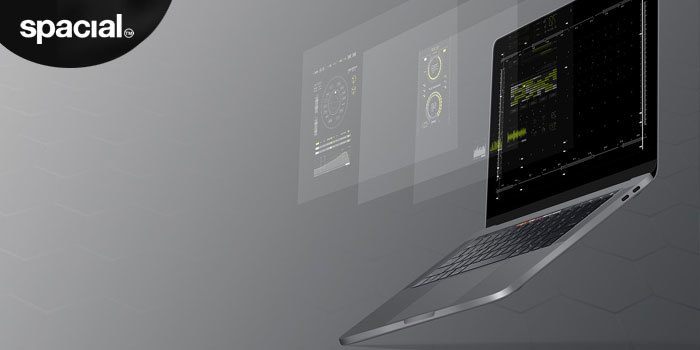 New Spacial Website, New SAM User Interface
It's been a labor of love, and now, the new Spacial website is finally here! You like? We like. For those of you overwhelmed with what I sincerely hope is sheer awe, let me break down some of the improvements.

1 – New SAM Interface
Okay, so this doesn't have to do with the website, but the SAM user interface is part of Spacial's overall rebrand, so it needs to be mentioned. As you can see from the photo, it's really pretty. We optimized some of the buttons and its general appearance to enhance your experience. But here's the best part: if you're using a recent version of SAM Broadcaster, SAM DJ (formerly SAM Party DJ) or SAM Cast (formerly SimpleCast), you can update the software with the new skin for FREE. Here are the downloads: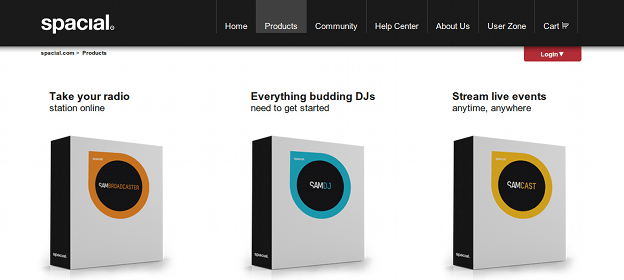 2 – New Names & Logos
We bore the name "Spacial Audio" over a decade ago, but we've grown up a lot since then. So we dropped the "Audio" and shortened it to just "Spacial." Our product names also got a slight tweak. We decided to make them all part of the "SAM" family. So SAM Broadcaster will remain as is, but SAM Party DJ is now SAM DJ, and SimpleCast is now SAM Cast. And all of these new names came with new logos.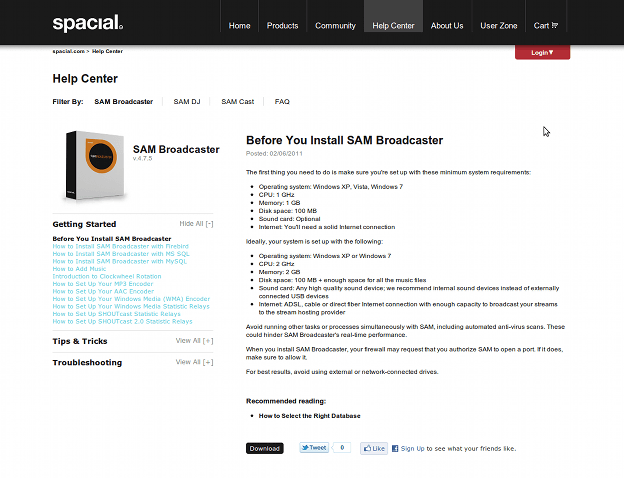 3 – Help Center
Need a hand with our software? There's more than one way to get it. Naturally, the Spacial Forum is an excellent resource for immediate assistance. Keep using it! We're often amazed at the expert knowledge of our own Spacial Volunteer Support members, who are practically fixtures on the Forum. Thank you so much for being there, guys!
That said, we decided to make things a little simpler for you as well, so we created handy Help Documents for each SAM program, which effectively replace Spacial's Wiki. Each series of Help Documents is divided into 3 categories: Getting Started, Tips & Tricks and Troubleshooting. Within each category are a bunch of little chapters that address different parts of the software. Each chapter is relatively short and easy to digest, so you don't have to go through reams of text to get the information you need.
We're still producing more Tips & Tricks and Troubleshooting documents, and we're in the process of creating some video tutorials, which will be online soon. To be the first to know about Spacial news and developments, sign up for our mailing list.
Of course, you can always send us an email about a specific issue you might be having. Just fill out the form and one of our representatives will get back to you shortly.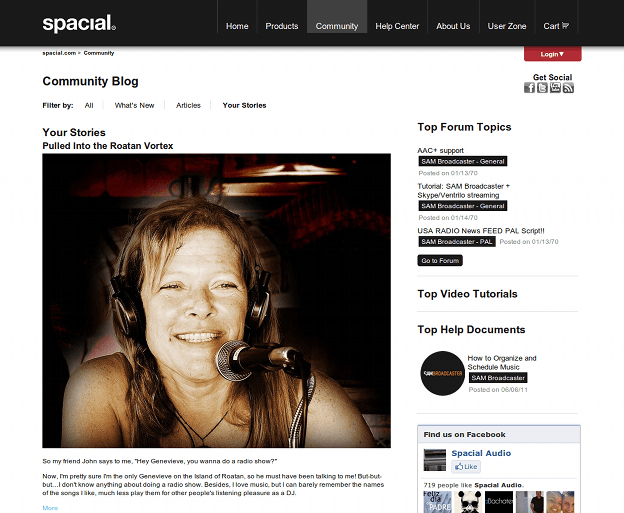 4 – Community Blog
Remember MyRadioStory.com, where we asked you to submit your stories about radio or DJing? Well, this is what it was for. On the Community Blog, you'll find much more than just news about Spacial (like this piece right here) or articles about the radio industry, you'll also learn about people who share your passion. We're really proud of this section, and we especially love the stories you sent. You made this successful, so thank you! If you missed the deadline on MyRadioStory.com, don't worry; we're now officially accepting stories all the time. You can now send us your tale any time you like just by clicking here.
5 – Join the Conversation
We're on Facebook. We're on Twitter. We're on Youtube. How about you?
That's it for me. We sincerely hope you love the new website as much as we do. Got suggestions or feedback? Leave a comment or send me an email at social@spacial.com
Talk soon!