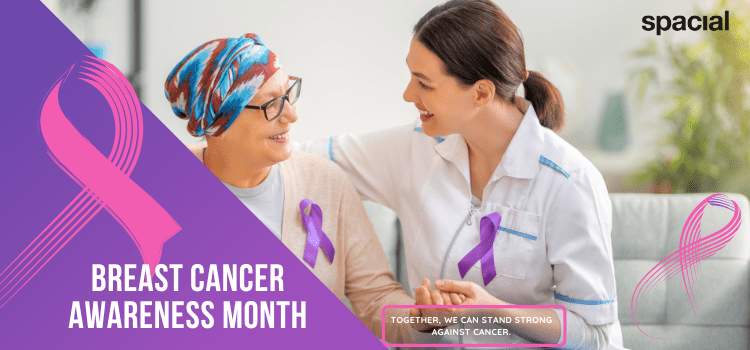 Breast Cancer Awareness Month
October has landed in our laps, and as we speed towards the end of the year, October is a stark reminder about a cause close to our hearts – Breast Cancer Awareness. At Spacial, we always do our bit in the month of October to help raise awareness around Breast Cancer. You might be wondering why we care so much about the topic, yet we specialize in radio? Well, our answer is simple. We care about our community around us and through awareness, we can save a life.
One of our staff members who has recently been affected by breast cancer shares her story and this is what she had to say:
''Last year started off like a very normal year for me, full of hope, dreams, and plans for the year ahead. I had just celebrated my first year in a new country, and it felt like my life was taking shape. One day, after taking a shower I felt an unusual lump in my right breast. The bump was quite big (which later turned out to be an 8cm cancerous lump in size), and it felt like it had just appeared overnight. My initial thought was that it was a cyst or an injury. During the coming week, I kept checking the lump, hoping it would subside. I honestly convinced myself that it was nothing, as I once had a lump which turned out to be benign. I even went away on a holiday that we had pre-booked as a family that week.
When I came back home, I realized that the lump was not reducing in size, so I booked a doctor's appointment. At this point I had started googling and the possibility of the lump being breast cancer had dawned on me. The GP referred me to breast care services and immediately the oncology doctor who examined me pointed out the nerve wrecking news, that we were likely dealing with breast cancer. To say I was shocked is an understatement, I felt my life being swept under my feet. I have a young family, 3 beautiful boys and my husband, and the thought of leaving my young family scared me. My surgeon was assuring, telling me that they treat 80% of cases caught early successfully, and this gave me a bit of hope. I had further tests, mammogram, ultrasound, biopsy which all confirmed breast cancer. This was later followed by a series of further tests – MRI, bone scans, body scans to ensure they was no further spread. Treatment that lasted about 9 months commenced, which included surgery, chemotherapy, and radiation. October marks the month I completed my chemotherapy last year. I lost all my hair and last year did feel like a blur, but the support of my family and friends made it all easy and bearable. My company was also supportive and very understanding during this difficult period.
So why have I decided to share my story? To raise awareness, hoping this can save a life. Here are some key takeaway points from my own experience:
Breast Cancer affects anyone – I had once been told, you are too young to have breast cancer when I had a benign lump, and this time around was no exception. When I went to the GP, he advised that I was too young to have breast cancer as I was 38 years at the time but would get me checked anyway to be sure. Well, it turned out to be breast cancer. Young women and men get breast cancer too so know your body and get checked out immediately if you feel an unusual lump. Doctors can sometimes dismiss your symptoms if you are young, so push for answers.

Educate yourself on symptoms for breast cancer – I had an 8cm tumor, which could have easily been dismissed as a cyst as the myth is breast cancer does not grow so quickly. Well, I am not sure how my lump grew quickly so do not ignore any type of lump. Get it checked and get an all clear from the doctor. Breast cancer lumps can also be painless in most cases. In my case, I had a sore breast 2 weeks earlier, so any unusual sign should be checked out too.

Early detection saves lives – always check your breasts at least once a month. If you feel anything unusual, get checked out immediately. I had initially ignored my signs, but I am glad I did get checked eventually. I should have done it earlier in fact. If caught early, breast cancer can be treated. I was blessed that it was caught early before further spread. If you are over 40, take advantage of the free yearly mammograms.
1 year on since my surgery, I am doing well, currently in remission, and optimistic about the future. Some days are hard, but I choose to focus on the positives. I choose to live each day as it comes, and this experience has helped me reprioritize and focus on the vital few important things in my life, including my family. I hope my story can help someone today.''
Show Your Support for Breast Cancer
As a radio station, you can make a difference to raise awareness this month. Get involved with Breast Cancer Awareness Month by fundraising through your station. As well as the feel-good factor of raising money for charity, it is a wonderful way to gain credibility as a philanthropic radio DJ or Station. Check out this blog on how you can kickstart your efforts.

The bottom line is it does not take much to help spread awareness of breast cancer and the benefits of early detection, so do your bit today. If you are involved in any breast cancer awareness activities this October, feel free to share on our Facebook page. Together we can save lives and make a difference.