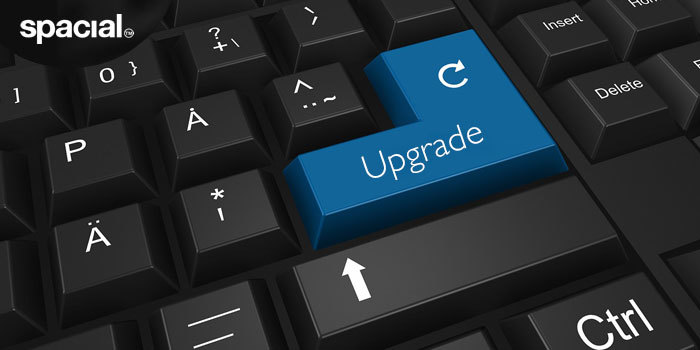 Why It Makes Sense To Upgrade Your SAM Broadcaster Cloud Subscription
Broadcasting software has followed a long, amazing route to what it can accomplish today. Thanks to the ease of setup, and the affordability of maintaining your own station, thousands of people are finding out how they can teach, soundtrack and inspire listeners worldwide. Radio automation software, in general, is behind this dream. And, like any flexible tool, it has more than one shape to explore. SAM Broadcaster Cloud has three packages which are Bronze, Silver and Gold. The more you invest in it, the greater your station will be: it therefore just makes sense to upgrade your subscription…
The basics of SAM Broadcaster Cloud Bronze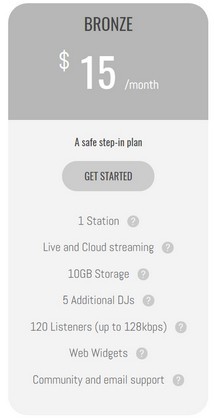 If you're a Spacial regular, you've probably checked out SAM Broadcaster Cloud's Bronze package, the starting level for your station's success. It lets you dip a toe into the water of digital audio; one that, we imagine, will leave you hankering for a deeper swim.
So, why is Bronze good, and what are its limitations? On the plus side, you can get a single radio station up and running, with full live and cloud-based streaming options. Listeners will be able to tune in wherever they are in the world. You also get:
10GB Storage for your tracks, which will accommodate several playlists
5 Additional DJs
120 Listeners (up to 128kbps)
Web Widgets
Oh – and there's full support if anything goes wrong, via the Spacial team.
However, the Bronze pick is only designed to get you started. 10GB which is the storage capacity will dry up after a few months' upload of music, and you'll probably want more. Also, you're limited to one station. Fine if there's no plan for expansion; otherwise, several stations are a no-brainer, as they'll extend your capability.
Amplifying your radio DJ efforts – Upgrade your subscription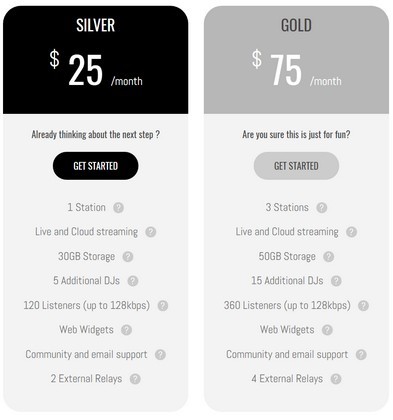 Eventually, most broadcasters will look at the Silver and Gold upgrades for their radio automation software. SAM Broadcaster Cloud Silver and SAM Broadcaster Cloud Gold cost a little more, but they're worth it in every respect.
In addition to functionalities you get on Bronze such as 120 listeners capacity, web widgets and 5 Additional DJs, the SAM Broadcaster Cloud Silver package also :
Triples your storage to 30GB
Gives you two external relays to broaden your online presence on internet radio station.
This is still with the full tech support, widgets and streaming features that come with the Bronze bundle.
However, at the top of the pile is SAM Broadcaster Gold, and we're certain it'll make a huge difference to your radio DJ venture. Instead of one, lonely station, you get three awesome radio stations, there to use as you please! What's more, you get:
Ten additional DJs, up from five i.e. a lot more scope for distributing control to other people.
Storage is bumped to 50GB, while
External relays are doubled to four
As an aside, we can't help but shout about the benefits of a yearly Spacial purchase, instead of paying month-by-month. Okay, the upfront sum is bigger, but you'll end up saving more, as the annual fee has a discount. Essentially, you'll be getting a whole month free – a great thing if want to reduce costs in the long term.
Are you prepared for that upgrade to your radio automation software? We are, and there's no reason why it can't be an easy-peasy process. Take the plunge, and get savvy with your SAM Broadcaster Cloud: see our packages in more detail, as well as our chance to customize them to your liking…