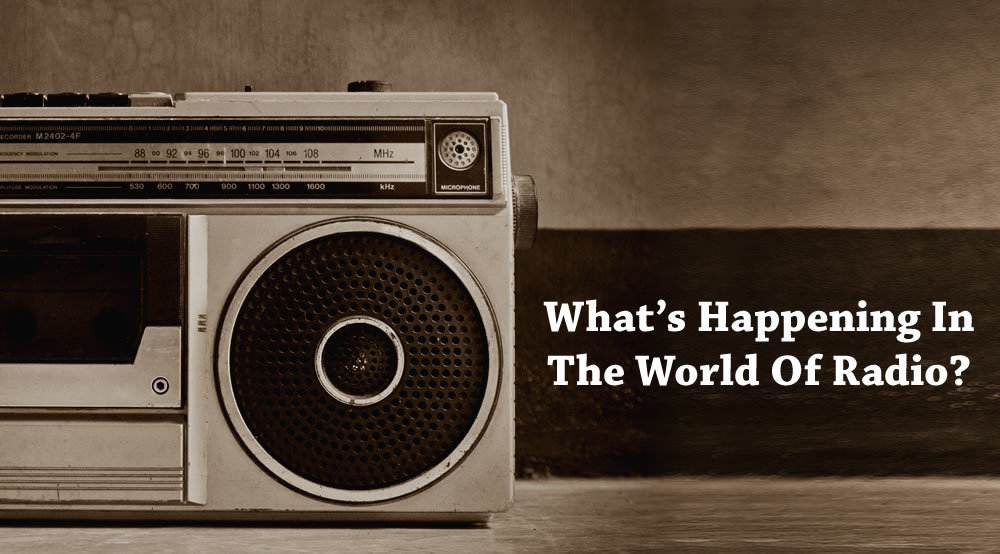 What's Happening in the World of Radio – May 2018
Hey there, folks! A lot can happen in a month – so we're here to fill you in on a few of the interesting industry-related things that went down during the past month. We'll be posting a "What's happening in the world of radio" segment every month from now on, so keep those eyes peeled for the latest news. For now, let's take a look at a couple of things which have happened in the world of radio during May.
iHeartRadio launches 'Daily Dive'
A brand new news podcast show has recently hit the scene on iHeartRadio. "The Daily Dive" is hosted by Oscar Ramirez every weekday morning at 6 am EST. During his 15-minute show, Ramirez covers the top news stories for the day. You can stream or download The Daily Dive Podcasts here.  
iHeartRadio is now available for Southwest Airline passengers
iHeartRadio has been selected as Southwest Airline's exclusive music offering in the airline's onboard entertainment portal. Passengers traveling on Southwest's WiFi-equipped airplanes will be granted access to live radio and custom stations. Specific playlists which have been tailored for in-flight listening, including playlists for kids, will also be available. Passengers will not be required to purchase in-flight WiFi in order to enjoy the exclusive in-flight music service. To find out more about the collaboration between iHeartRadio and Southwest airlines, click here.
'Listen-In' campaign launched by AudioBoom to raise funds for the hearing impaired
AudioBoom supported Better Hearing Month this May by working with the Starkey Hearing Foundation to launch the Listen-In Campaign. Starkey Hearing Foundation works in 100 countries to provide hearing aids and care to those who suffer hearing impairments. AudioBoom rallied no less than 16 podcasts to participate in the effort to raise funds for the hearing impaired. The participating podcasts include Casefile, Buried Alive, Convicted, Felon True Crime, Deliberations, Actual Innocence, And That's Why We Drink, Astonishing Legends, Fireside Mystery Theatre, InBox, Mafia, Into The Portal, Mission to Zyxx, Space Nuts, and Space Time with Stuart Gary.
If you would like to make a contribution to support the Listen-In campaign, click here.
YouTube launches its music streaming service
The 22nd of May saw YouTube launch its brand new music streaming service 'YouTube Music'. YouTube Music is a new app and desktop player streaming service which offers users access to millions of official tunes, remixes, covers, videos, and live performances.
YouTube Music is available to music lovers as a free ad-supported service. Users have the option of a $9.99-a-month YouTube Music Premium membership which offers an ad-free experience, along with background listening and downloads.
YouTube Music, much like YouTube, aims at encouraging new music discoveries with a personalised home screen that suggests new music content based on past listening. It will also place emphasis on powerful search, which allows users to find songs using lyrics or a description of the song as search criteria.
For now, the YouTube Music service has been released in the USA, Mexico, Australia, New Zealand, and South Korea, but the service will be expanding its reach in the coming weeks. If you would like to know when YouTube Music launches in your country, click here. If you would like to know more about the service, click here for the official release statement.
ACAST is looking for the next big podcast star
Calling all UK podcasters! 'LaunchPod' is a new contest hosted by ACAST in collaboration with the production company Wisebuddah. Any aspiring UK podcaster with an idea for a podcast can enter; submissions are open until 9 pm on the 18th of June, 2018.
The three semi-finalists will work with a team from ACAST and Wisebuddah to create pilot episodes for their podcast. The winner will be voted for by the listening public; they will then have the opportunity to create a 6 to 10 episode run of their podcast show. Wisebuddah will help the winner with the show's production, and the podcast will then be hosted on ACAST.
If you would like to enter the LaunchPod contest or simply learn more about it, click here.  
Audiam makes its income-tracking tech available to all clients
Audiam, the digital rights agency, has recently made their income-tracking technology available to its client base. This advanced income-tracking technology, called 'Layla', can be used by artists, songwriters, publishers, and music labels to find unclaimed royalty payments. Layla helps copyright owners generate reports on every version of their work (including covers) that is used across various music streaming services. These services include YouTube, Spotify, Apple Music, and Google Play, among many other interactive streaming services.
If you would like to know more about this and other Audiam services, click here. If you would like to know more about streamlicensing and royalty payments for your online radio station, click here.
That's it for this month's "What's happening in the world of radio". Be on the look-out for the June's edition to see what happened in the world of radio. If you've always wanted to start an online radio station all your own, why not try our free trial of SAM Broadcaster Cloud to get started?