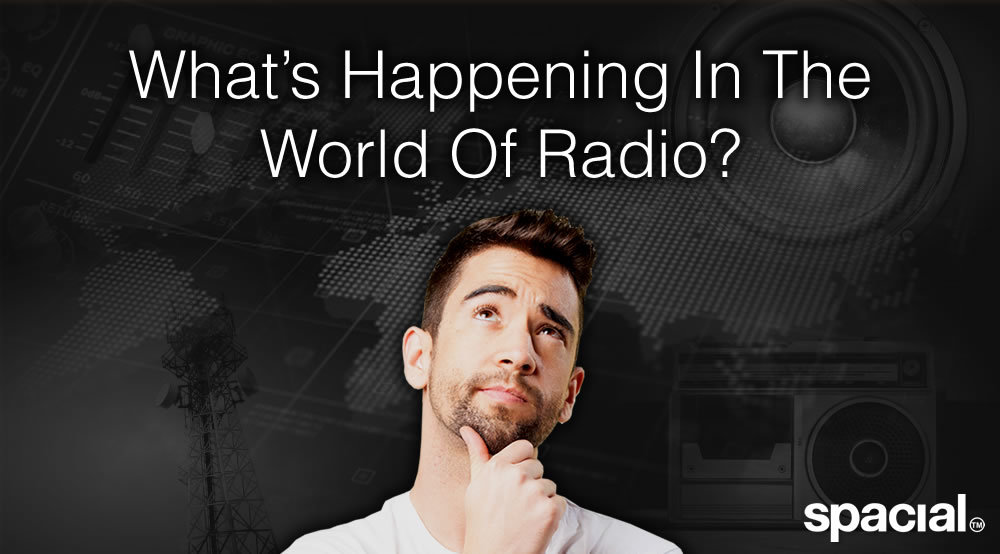 What's Happening in the World of Radio – June 2018
Another month has gone by and so much has happened – including our second instalment of What's Happening in the World of Radio. Once again we are here to share a few interesting things which have happened in the world of online radio and music.
Live365 crosses the border into Canada
If you use Live365 as your streaming platform then your broadcasting reach now also includes Canada. Canadian listeners can now enjoy Live365-hosted streams from Live365. This comes after Live365, previously only available in the USA, expanded their reach into Canada by securing Canadian stream licensing deals through SOCAN and Re:Sound. The mobile apps will be updated shortly to include this new expansion. Canada is only the start of the Live365 expansion, as the platform plans on expanding their service even further in the future.
For more information on stream licensing for online radio stations, click here.
Google releases Google Podcasts
Fantastic news for team Android! Google has finally entered the realm of podcasts with their much-anticipated Google Podcasts app. The initial release of this free Android app comes with basic functionality which includes searching, following, listening, and downloading, with additional features planned as the app grows in popularity.  
The app organizes shows into simple, straightforward categories like 'news and politics', and 'sports and recreation', with the app also making recommendations. Google Podcasts is reported to synch across your Android devices, so you can start listening on one device and pick up where you left off on another device at a later time. The app is available globally from the Play Store with further information available here.
'First on Soundcloud' launches in Europe
'First on Soundcloud', which kicked off earlier this year in the USA, is officially expanding to Europe. The First on SoundCloud campaign has been created as a way to cast a spotlight on emerging performers who use SoundCloud to showcase their talents. The campaign allows these performers and creators to build a following and share their talents with new audiences.
European artists can partake in this campaign by uploading their work to SoundCloud using the #SCFIRST hashtag which gives artists and creators a chance of being featured in the spotlight. SoundCloud promotes artists who participate in this campaign on various platforms, including SoundCloud playlists, blogs, newsletters, and social media. Participants also stand a chance at being fast-tracked for SoundCloud Premier monetization, as well as other partnership opportunities. You can find further information on the First on SoundCloud campaign here.
YouTube Music and YouTube Music Premium expands reach
Last month marked the official launch of YouTube Music and YouTube Premium (previously YouTube Red) in the US, Australia, New Zealand, Mexico, and South Korea. June 2018 marks their official international launch which sees the new music streaming service being made available in 12 additional countries. The latest version of this service offers music videos, official videos, remixes, live performances, and covers, as well as providing playlists for different moods and genres. YouTube Premium, which is available at $9.99 a month, offers users ad-free listening and includes a free, 3-month trial period. A joint ad-free subscription to both Youtube Music and YouTube Premium is also available at $11.99 per month.
YouTube Music and YouTube Premium are now available in Australia, Austria, Canada, Finland, France, Germany, Ireland, Italy, Mexico, New Zealand, Norway, Russia, Spain, South Korea, Sweden, the UK, and the USA.
More information on YouTube Music and YouTube Premium services can be found here.
ESPN Audio live and on-demand programming available on iHeartRadio
Thanks to a new multiyear agreement, iHeartRadio now sports ESPN Audio's suite of programming as a part of their service. Listeners can now use iHeartRadio to stream from the ESPN Radio Network, the ESPN Deportes Radio Network, ESPN Radio's locally owned and operated stations, as well as ESPN Radio stations owned by iHeartMedia. Under this new agreement, iHeartRadio users also have on-demand access to ESPN's full range of podcasts and live sporting events.
For more information on the ESPN-iHeartRadio agreement, click here.
That's it for this month's What's happening in the world of Radio. Look out for the July edition for more industry-related news. If you happen upon any industry-related events that you think is newsworthy, please feel free to share it with us at marketing@spacial.com, and it may feature in the next instalment of What's Happening in the World of Radio.   
Have you been thinking of dabbling in the online radio game? Why not start out with the best online radio automation software? Go ahead and try our free trial of SAM Broadcaster Cloud today.