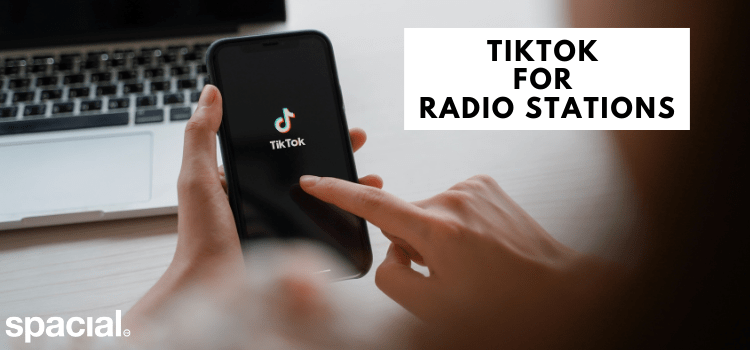 TikTok For Radio Stations
Believe it or not, the popular video-sharing social network, TikTok, has become a key traffic driver for radio. It has become the biggest disrupter in the music industry, boasting over 800 million active users worldwide. Like Spotify and Apple, the platform has also become a huge boost for programmers, who can now get on top of the latest music that is trending.
Teenagers and young people are the primary users of the app, and according to hootsuite.com, the 13–17-year-old segment represents 27% of the app's user base, 18–24 – 42%, 25–34 – 16%, 35–44 – 8%, 45–54 – 3% and 55+ – 4% of the app's user base. For any internet radio station targeting Generation Z and teens, ignoring TikTok as part of your reach strategy could mean that you miss out on significant traffic to your station. The platform has the potential of attracting more older generation app users in the near future, in the same way the 35+ age group has embraced Instagram; hence it is important to know and understand how you can create value from the platform.  
Benefits of Using TikTok For Radio Stations
Content Discovery – You can use TikTok to discover new trending music for your radio station. TikTok often impacts top chart lists due to the viral nature of the dance challenges and remixes that its users create and share. Additionally, it has become a platform to also discover the latest trending content that you can use for programming, such as content.

Potential to Trend – The one magical factor that TikTok has is that if your content is good, you can trend quickly and can become an instant sensation, be it local or global. As a radio station, you can use the platform to share funny, eye-catchy moments in your studio or anything related to your content.

Advertise Your Radio Station- Audio branding is increasingly becoming the cornerstone of radio stations. With TikTok, you can easily create short, eye-catching video advertisements from directly within the app that include your audio brand. You can then share and promote your video through TikTok, which will help to increase your visibility and grow your audience.

Reach New Audiences – Given the wide demographic that uses TikTok every day, having a presence on the app can help you reach new audiences with minimal effort.

Tips on How to Effectively Use TikTok For Your Radio Station
Identify your target market – When you identify your target audience, you can create content that is both appropriate for and appealing to that audience. The 13-25 age group are most attracted to funny and engaging videos, whereas and 35+ audiences are more attracted to educational videos.  
 
Don't Make It Serious – TikTok is a laid-back platform, so try to keep it your video content light and funny to generate the most engagement.  
 
Create a Challenge or Contest – One of the top trends on TikTok is dance challenges. As a radio station, you can create a dance competition or challenge your listeners to create a challenge for your station, and offer a prize for the video with the most views. 
 
Hashtags – When adding Hashtags, TikTok will automatically make suggestions. Be sure to take advantage of this and select the most appropriate Hashtag with the highest number of viewers.
 
Go Local – Local content is the name of the game when it comes to getting off and running on TikTok quickly. When you first establish your account, try creating content or conversations around your location. This way, you increase engagement from your local area and begin to generate local followers for your station.  
 
Educate – Increasingly, businesses are using TikTok for creating and sharing educational videos or to advertise their services. TikTok has noted an increase in users taking a keen interest in educational videos and the hashtag #LearnOnTikTok has over 7 billion views and counting. Once you build a TikTok profile and audience for your station, you can begin to use your platform to also promote educational videos for your own radio station or for your customers. Washington post has created several informational videos to educate their audience on political matters in America. Boston public media producer WGBH has collaborated with the social media platform TikTok to bring short-form science educational content.  
 
Post at Peak Times– Like any social media platform, posting your content at optimum times increases engagement. The paid version of TikTok allows you to know the times when your audience is online, so you can post according to this schedule to ensure the highest amount of visibility and engagement.  
 
Share on Other Platforms – TikTok gives you the ability to share on other social media platforms such as YouTube, Twitter, Instagram, Facebook, Reddit, and Pinterest. Be sure to take advantage of this and share your TikTok videos on your other platforms to increase your reach.  
How to Create a TikTok Account
If you do not have TikTok Account already for your radio station, here are the steps to create one:
Download TikTok from Google Play or the App Store.
Open the app.
Choose your Interests
Go to Me
Choose a method to sign up
Create a username and click on sign up
Note: Make sure your email and phone number are valid as they are needed for login and password recovery.
You can then start watching videos
To discover the latest music or content, click on discover
To create a video, click on the video icon and start making your video. Click here to learn more on how to create a TikTok video
TikTok may feel like an unusual tool to have in your radio toolkit, but the only way you will know if it can help you move the needle is to try it. The more you use the app, the more comfortable you will be with it and the better it will work for you.
If you do not currently have a radio station, why not try out our 7 Day Free trial for SAM Broadcaster Cloud today.