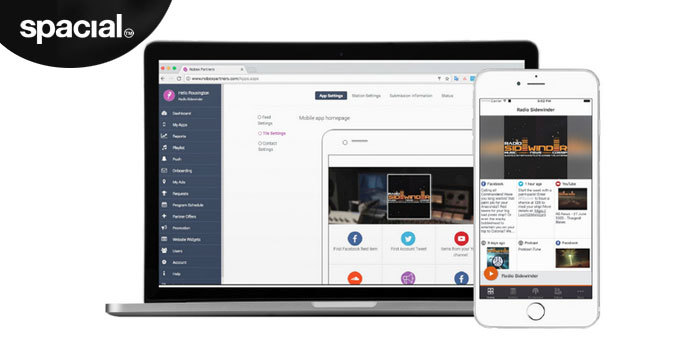 Mobile App For Your Internet Radio Station
So you've got your station live and kicking but now you're wondering if you should be launching a mobile app? Our answer – you definitely should!
Nobex Partners is the complete digital solution for radio stations and podcasters. We make it easy for you to create your own custom, feature-rich mobile app and provide the most powerful Dashboard to help you engage and grow your listenership.
 Your branded, state-of-the-art application
Within a few days, you can have your own, branded application published in the app stores. No more sending your listeners to find you in other applications (together with many others). You control the content, the dialog, and your brand. And it's not just about your live stream – it's also for your on demand content, YouTube channel, Facebook, Twitter, Instagram – anything you have to share with your audience.
Mobile is just the start
Mobile is not just a new distribution channel. It's an eye opener. The application keeps reporting usage and events to the server. Your listener tuned in – you know when and where. She switched off – you know what song was playing then. She increased the volume – that's an interesting engagement signal. We take all this data, and provide you with actionable insights. And all this – without requiring the user to do anything other than listening to you.
Mobile allows you to proactively get them back
Mobile is not just a new distribution channel. It's an eye opener. It's no longer only broadcast with no control over who tunes in. You can push them reminder messages a few minutes before their favorite show starts. You can push them a link to a special item you think they will be interested in. We will automatically push them a message when a song that they liked is playing again on your station. You can push a message to all your listeners at any time, or schedule it to go out at a given time. You can proactively get them back.
Mobile allows you to start a dialog
With built-in tools like song request form, sweepstakes, birthday wishes and many others, that feed directly to your back-end portal account, you can engage with your listeners and start a conversation.
Mobile creates new revenue streams
Your stream carried ads, that we know. But your mobile app includes visual ads that pay $6-10 CPM, native ads within the lists in the application, and a unique, hyper-local ad system that allows you to sell highly engaging, targeted, measured and geo-fenced local ads.
So now that you're all excited about building your custom mobile app – let's get started!
Sign up with Nobex Partners today!
Nobex Partners has launched over six thousand apps for stations and podcasts in over 100 countries, with over 26 million users. Read about why we believe Digital is so powerful for broadcasters and what motivates our product development here.
Additional Resources
Nobex Partners Features:
 http://nobexpartners.com/Features.aspx
Help Articles for Getting Started: