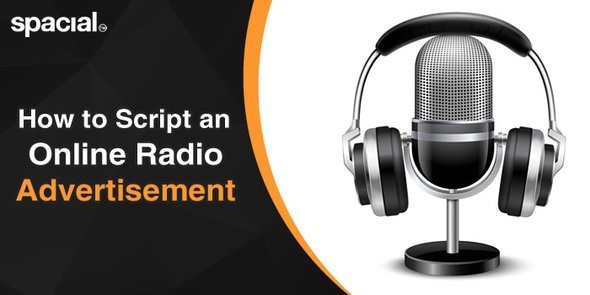 How to Script an Online Radio Advertisement
One of the most common hardships that advertisers or station owners face is creating an appropriate radio ad script. The best way to come up with the perfect online radio commercial script is by understanding all the aspects that makes online radio one of the most effective mediums of advertising, due to its ability to target specific audiences.
Radio Ad Time
In contrast to traditional radio commercial breaks, online radio ads tend to be shorter, to the point, and more interactive in nature. Usually, commercial radio ads are set at a maximum of 60 seconds and priced accordingly. However, for online radio ads, depending on the type of product, service or event you the ad is promoting, 15-30 seconds advertisements tend to be best practice. Keeping ads concise and engaging will ensure that you are able to deliver a long lasting impression on your listeners.
The time you have determines the nature of your script. 15 seconds would likely entail a short introduction, relay of information, and a call to action, whereas 60 seconds would enable you to tell a longer story in its entirety to your target audience. 
Determine the purpose of the radio ad
When you decide to advertise through a platform like online radio, you'll want to be sure that your script achieves your purpose – i.e. to increase sales, boost brand awareness, introduce a new concept or product, invite people to an event, etc.
Many advertisers leverage online radio ads to promote a product. An advertiser should be able to identify a problem, and propose their product as the solution to it, thus satisfying a need in the market.
How do you want the listeners to react?
The purpose of many promotional campaigns is to persuade people to take action. For this reason, incorporating call to action into your ad script is imperative. It is a great way to guide people towards the next step after having heard your online radio ad. No matter what the next step be – from clicking on a banner, placing a call, visiting an outlet, visiting a website or participating in a lucky draw via text – incorporating phrases like 'call now', 'act fast', or 'visit us now' can have a profound effect on the listener, especially if they are offered an exclusive benefit in return.
Relay the exclusive benefits extended
An effective online radio commercial script will ensure that the benefits extended to the market are highlighted and promoted. The only way the online radio ad will be deemed successful is if the script is written in such a manner that it proficiently relays the overall benefit of taking action on the ad. The convenience of what your advertising will extend, if relayed effectively, will incite a response from the potential consumers. Additionally, these benefits will act as an incentive for listeners to act quickly before they find themselves at a loss – especially as it relates to limited time sales and discounts.
Customize The Ad for your Target Audience
If your target audience is a group of skilled professionals, men, women, children, musicians and such, you need to ensure that the language and sentence structure you use are appropriate for that audience. Using the appropriate jargon will increase efficiency and understanding of what you're offering.
Plan and Strategize
You want to ensure that, aside from creating the script, the other factors that help mold it into an effective tool of advertisement are customized. Thus, you will benefit greatly from:
✔ Creating a brief before drafting the script so that you have a reference page that keeps you in check when it comes to incorporating the necessary content.
✔ Conducting a table read once the script has been written to experience and adjust the flow and impact of the words.
✔ Ensuring that the script is written to capture the attention of a listener.
Whether you are creating the script from scratch or molding a sample, the few considerations mentioned above can go a long way in ensuring that your online radio ad script fulfills its purpose immaculately – making it attractive, persuasive and interactive.
Accuracy
You should work with your client to ensure the content of the ad is accurate and you should also consider any potential legal issues which might arise, for example if your client wishes to defame a competitor in an ad run on your station.  Ensure the client signs-off on the advert before going to air.
Here, at Spacial Audio, we have made it our mission to cater to online radio broadcasters. If you have created your own online radio advert and you are looking to increase your reach, or you are a station owner looking at maximizing and optimizing your advertising revenue, we have you covered. Triton Digital, the owner of Spacial Audio, provides the industry's most comprehensive stack of advertising solutions to help you leverage the tremendous power and reach of audio advertising. In addition, our own SAM Broadcaster Cloud Enterprise package enables audio streaming publishers to quickly create and monetize curated, niche online streams. Contact us today to learn more.