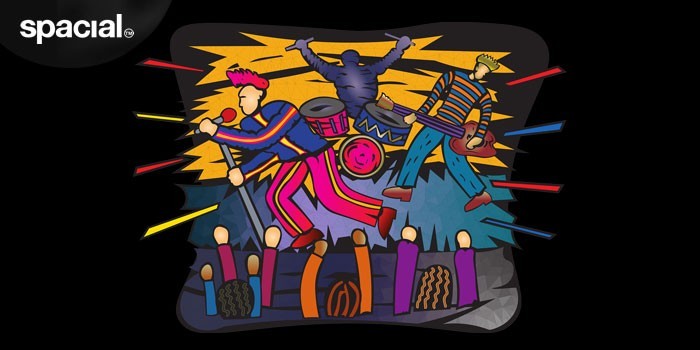 A Spacial Guide To Getting (Almost) Free Festive Music
What's the festive bonanza without our favourite holiday tunes? Millions of us look forward to the sudden, snow-bound sweep of Wham! and Paul McCartney on our radio stations, come the beginning of December. Any budding online radio DJ – still under the mistletoe with their new kit – may be eager to join the fray. Yet they may be unsure of how to get good songs in their music library. Well, whilst getting free festive music is very tricky for public broadcast, we'd like to try and bring you that gift… Santa hats donned, we've scoured the web for the best alternative, almost-totally-free music download sites. And all to help you pepper your playlist for the season.
So, are you ready to take the internet radio sleigh ride? Here's what we've dug up:
1. AM Classical
The purist's choice might be AM Classical, holder of the finest organ-soaked, timeless tracks from the hymnbook. They have 18 songs that cross every warm-hearted step you can think of. These include tunes like 'Good King Wenceslaus' and 'Joy To The World' all the way to 'While Shepherds Watched Their Flocks.' The recordings are fairly brief, with a few topping thetwo-minute mark. This makes them a crisp, swift accompaniment to your programming.
Bear in mind that they have the AM Classical feel. So there's nothing surprising, pop-centric, or straying in any sense from the hymns we know and love. Yet for a soothing background to your broadcasts, this is free festive music we can toast our hands to over a fire. It's ideal for family and spiritual shows that everyone can enjoy. This also happens to be the first candidate on our list that's 100% free. Just make sure you credit 'A-M Classical' and add a web link in your player window, so people recognise the source.
Billing itself as the home for "top independent artists", there's much to like about Feels Like Christmas. It's been compiled by listeners who really want to share the personality of each song with you, making an introduction before you decide on it yourself. Brief descriptions precede tracks such as 'Peace On Earth/Little Drummer Boy' by 70s-aping indie kids Blue Skies For Black Hearts, or Sofia Talvik's 'When It Rains On Christmas Day'.
Together, they're like a batch of songs your friend might burn from a magazine's December compilation CD, telling you why they might be a piece of modern genius. Links take you to the corresponding purchase data for each audio file. Some might go to the artist's website, whereas others lead to Amazon and iTunes. Picks range further than America, with cultural roots in Russia and Sweden for a more diverse playlist on your station.
3. Paster
Pop culture kings Paster did a great thing back in 2010, roping a rundown of free music downloads into shape for their festive celebrations. Well, the title of the page can be somewhat misleading, as there are plenty of paid-for downloads. But the site has a few inspired choices to getting free festive music.
Our favourites take in the xylophone stomp of 'Teenage Christmas', an upbeat pop tune called 'California Christmas', and 'Children Go' by the Super Desserts. And you won't have to pay a thing for the privilege. Paster did a lot of research to draw these all into one place. So we can thank them for the token, and spice up radio broadcasting with some genuinely odd, quirky songwriting.
Someone out there has granted us an audio present wrapped in a big, brash reimagining of traditional songs you think you know. A visit to Uncle Dave's Xmas Tunes will leave you smiling ("The most beloved internet site in the entire world", reads the homepage header), curious, and reeling from the impact of these wall-of-sound-style homages to the season.
Uncle Dave's happy for you to use any of his work for public broadcast. Just be sure to credit his site with a link in your web player. The catalogue here skips over regulars like 'Jingle Bells', 'The First Noel', 'O Holy Night' and 'We Three Kings'. But it ensures that they're polished up with an intense, jaunty inflection. This makes them quite special in the landscape of easy-listening holiday songs.
Our final source is perhaps the most charitable. In 2002, a certain DJ Riko from Germany gave copies of his Yuletide electronic mixes to friends, family, or anyone who needed a bit of festive joy in their life. His tracks made their way around the internet and eventually featured on Hamburg radio. This prompted DJ Riko to do more of the same for every year that followed.
They're all on his site – an eclectic storm of tastes that pinballs from Kanye West to Lead Belly, or Bobby Sherman to Gifted Children in a heartbeat. Direct downloads will give you the full mix for any year (2002-present). These, of course, can only be separated, track by track, with manual editing software. Yet DJ Riko's ear for a melody is hard to deny. So you may well be getting free festive music in a ready-made wish, there for immediate placement in your library.
How's that for a starter? We've set the bar so you can follow your own explorations into getting free festive music, both now and for future festive seasons. Anyone able to play licensed music can mediate the cost of their Mp3 downloads by throwing some of these into the pipeline too. Do it as a present to yourself – and you're listeners. Your internet radio audience will lap these tracks up in all the fun, creative ways they're used throughout your show.
But at Spacial, we'd like to remind you of the upcoming special offer we have for SAM Broadcaster Cloud users, or those who bring any of our software to the airwaves. It'll give your holiday station a platform for peak Yuletide interest. Check it out, and make a stab at more exposure when the snow is falling beyond your studio window.