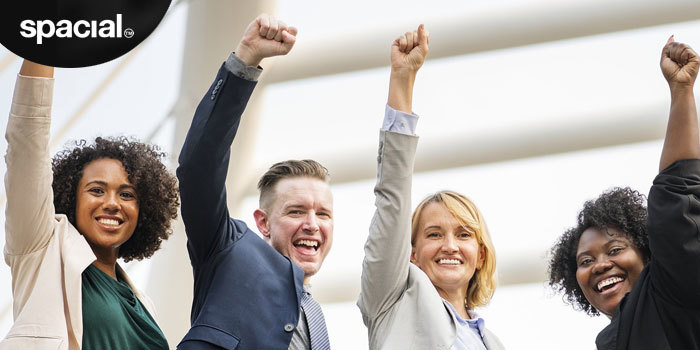 And the Winner Is…
Meet James Allen, winner of our contest and the new host of our video tutorials. James is a versatile fellow. On top of being tech-savvy, he's a voice-over artist with a real love for all things 80s. We chatted with James to get to know him a little better. Here's what he said.
You can also watch the audition video that won him the part below.
What made you want to audition for the role of Spacial's video tutorials host?
I had felt for a while that I would really enjoy making video tutorials but had not yet had the opportunity or motivation to try my hand at it. I was also keen to try out being in front of the camera instead of just behind a mic.
Having fallen in love with SAM, the prospect of helping people to learn this great piece of software as well as help me improve my presenting skills was a very attractive prospect.
What's the name of the online radio station you work with?
What show do you host?
The 80s Rewind Show with James Allen and The Researcher "Princess Pickles." [ed. Follow the show on Twitter]
What can people expect when they listen to your show?
A total rewind to the 1980's – with music from the US Billboard Top 1000, original movie trailers, TV themes, TV commercials, facts/trivia and more. Our aim is to transport our listeners back to this great decade, recreating some of the texture and atmosphere of this wonderful time – ending the week in style and kick-starting the weekend.
When did you get into radio, and why?
I started my radio show in mid-2010, when an opportunity arose to broadcast on an Internet radio station. I have been interested in 80s music and everything that made the decade so great. An idea had been bubbling in my head for a while about an 80s-themed show and ways to really take people back to the decade.
I had recently gotten into voiceover work and trying my hand at radio really fit into my overall plans for improving my voice, along with entertaining an audience.
I had also been a pro-wrestler so the urge to entertain and get on the mic was very addictive.
What made you get into voice-over work?
Since being a teenager, I had always had a fascination with speaking on the mic – whether it was to play around doing impressions of famous people or pretending I was the deep-voiced trailer guy. It wasn't until recent years that I started thinking that maybe I could actually do it on a professional level. I bought my first real mic and from the moment I fired up Adobe Audition and heard my voice back, I knew it was something I wanted to get into. I then started doing jingles for some of the radio shows I was involved in, and it went from there.
You're from Nottingham, UK. What is Nottingham known for?
The three most well-known things that Nottingham is known for are Robin Hood, the lace industry and the urban legend that there is a 1:5 ratio of men to women – making Nottingham a *very* popular destination for bachelor parties!
Here's James's winning video: