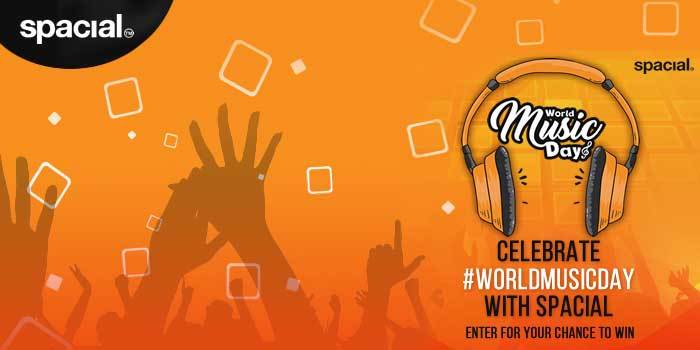 A Note-Worthy Event: Turning An Ear To World Music Day
Sometimes, the world is a tough place to love. We're assailed with images of doubt and pain, beamed to us by people who say that 'not enough is being done' about everything from climate change to honeybees.
That's why music is so precious. For many millions of us, it is our heartbeat, our reason to feel joy when we least expect to… We can't imagine losing it in our lives.
World Music Day is here, and the entire Spacial team wants you to get involved, showing friends, family and strangers why our spirits are lifted to a body-snatching beat…
Haven't heard of it before?
Yep, okay, there does seem to be a celebration of some sort on every date in our calendar. The internet has allowed niche, region-specific traditions to spread as far as people will accept them. Yet music is present in every culture; it doesn't need to be pushed as a novelty, and its unifying principles are (and continue to be) well documented.
World Music Day occurs on the 21st June each year. It began in France in 1982, established by then-Culture Minister Jack Lang, who discovered that a large portion of French children played an instrument. For 24 hours, he reasoned, there'd be an upswell of communal values, as emotions were teased out by tens of thousands of street performers across the country for Fête de la Musique.
Steadily, the idea began to take hold on the Western imagination, and eventually beyond it. There are now 120 countries officially behind World Music Day. They have active networks for organising who plays where, but it's all down to local grassroots musicians, who establish one-off, free shows in a public space.
Why a radio DJ should care
As a casual or curious fan of radio automation software, we're guessing that you like to be on top of what's happening in the sounds we listen to, and how they creep into wider aspects of society.
A radio DJ, whatever their level of experience, is probably in love with music. And more so than they could ever put into words. Any of you with a pinch of trend-setting talent will want to capture the grand, hectic fun of World Music Day events in your area. The focus on community – what, in essence, you're trying to build with your own listenership, via the instinctual qualities of a radio station – is a perfect match for your own goals and passions.
By covering the run-up to the 21st June, you'll forge stronger connections with those at the heart of a nearby music community. At the same time, you'll evidence a sincere wish for the weird, random and wonderful routes that a song can travel down to bring us together.
How does that sound? Like a rollickingly good programme schedule, spiced with exclusive interviews and real-time streams? World Music Day is what you make of it, but Spacial is going to throw our own influence into the mix – pun intended – with a big announcement coming up…
#WorldMusicDay Promotion
For a limited time only, we're giving away free music services to help you manage your Internet Radio Station better.
To participate in our #WorldMusicDay promotion, click here to enter. Lucky winners stand a chance to win any of the following great prizes:
1 x Bliss Software License for managing large music libraries
10 x Music Radio Creative Station Branding Packages
5 x Audio Brand Central Free Jingle Packages
Free iPlugger Account Sign Up – all participants